ACON Trampoline vs. Springfree Trampoline | Which One Is Right for You? 
Compare ACON and Springfree Trampolines in this honest, expert-led comparison. Learn where each brand excels and where they fall short to make the best decision!
When it comes to choosing the right trampoline for your backyard, the amount of options can feel overwhelming. 
ACON and Springfree Trampoline are two of the most prominent trampoline brands you can choose from. To help make your decision easier, we're going to provide you with an expert-led, honest comparison between the brands. 
Although we're comparing ourselves to a competitor, we don't believe in hiding from the truth. We will directly tell you where our Springfree Trampolines are better and where ACON's Trampolines get the nod.  
Today, you will learn everything you need to know to make an informed decision on ACON or Springfree. Let's dive in! 
What Is Springfree Trampoline?  
Springfree Trampoline, established in 2003, is the creator of the springless trampoline—which was the first alternative to the traditional, spring-based, design.   
Springfree has risen in prominence due to its Trampolines' safety and innovative design (which will be discussed later) and is the only mainstream brand to exclusively sell springless trampolines.  
Springfree currently sells nine trampolines and various trampoline accessories. They have received numerous awards for their innovative design, including the 2023 Creative Child Award and the Mom's Choice Award of 2023.   
A Springfree Trampoline:  
What Is ACON Trampoline? 
Founded in 1996 with roots in Finland, ACON has grown in popularity since its global expansion in the 2010s. 
ACON is known for its bounce technology and Nordic design, and their noted ACON Air Trampolines have been around since 2003.  
In addition to outdoor trampolines, ACON also sells rebounders (mini trampolines), gymnastics equipment and ice hockey goals/equipment. 
An ACON Trampoline, courtesy of ACON:   
Trampoline Showdown: ACON vs. Springfree 
Here's how this comparison is going to work: We will assess each brand on trampoline safety, quality/warranty, durability, design and pricing, choosing a winner in each category. That will cover the five main factors you need to look for when buying a trampoline. 
We will then evaluate a sixth category called "Other Factors," where we will choose a winner on other trampoline considerations. These include trampoline weight limits, installation, bounce quality and accessories. 
Trampoline Safety  
Springfree   
All Springfree Trampolines use proprietary flexible composite fiberglass mat rods placed under the jumping surface instead of springs for their bounce system.  

Other features include a frame that lies underneath the mat (making it impossible to land on), a net that flexes when jumped into, a mat with no hard edges and the use of flexible enclosure rods instead of metal trampoline poles. 
Springfree's mat rods:  
ACON 
ACON trampolines are built with durable materials and their "Trampolines With Net" models come with a ladder for easier access.  

However, some major safety concerns persist, including the springs being inside the net on some models and static metal poles that can cause injuries to wayward jumpers. 
Winner: Springfree.   
Why? Springfree Trampoline's safety features, as independent tests show, are industry-leading and have proven to eliminate 90% of product-related injuries—the only trampoline to accomplish that feat. They are objectively the safest trampoline you can buy. 
Trampoline safety is not ACON's strong suit. Some of ACON's Trampolines come with springs inside the net, which can cause pinching injuries. Their metal static poles can also cause injury if a jumper runs into them. 
The image below shows an ACON Trampoline with the metal springs exposed. As you can see, a child's feet are very close to them (courtesy of ACON): 
ACON also sells trampolines without a net: Enclosure nets are essential to ensuring the safety of your jumpers, and we would never recommend buying an outdoor trampoline without one. ASTM Standards say a trampoline should have a net.  
Trampoline Quality/Warranty  
Springfree   
Springfree Trampolines use mat rods that are 3x stronger than steel and 4x more flexible to provide their bounce, each relevant part is UV-stabilized, the frame is galvanized and has triple layer rust protection and Springfree's Trampolines are the most tested on the market (tested to three million jumps).  

10-year warranty on all parts of the trampoline (for all models).   
ACON 
ACON's Trampolines are quality-made. Their trampoline frames are galvanized, and black powder coated. They also come with thick frame tubes that help the trampoline not bend or warp with consistent use.  

The quality of their nets and springs varies depending on if you get a standard or performance trampoline. Every trampoline comes with padding for the springs.  

ACON's trampolines include a 10-year-warranty on the frame, five years on the mat and 2 years on the safety padding and other components. Spring warranty lengths vary depending on the model you choose.   
Winner: Springfree.   
Why? Springfree Trampoline is the winner in quality/warranty. All of Springfree's Trampolines include the same strong structure and an industry-leading 10-year warranty on all parts. 
ACON's Trampolines are built better than many other spring trampolines. Particularly notable are their springs, especially their Performance Springs.  
However, ACON lacks consistency: You must buy the Premium or Performance Trampolines to get the best quality trampoline ACON offers. Their warranty is solid on the metal frame and mat, but two years on all other parts is average for an outdoor trampoline.  
Trampoline Durability  
Springfree   
Due to its quality construction, Springfree Trampolines can last for 10+ years under reasonable use and require little maintenance to upkeep. Its 10-year warranty on all parts backs up this sentiment.  
ACON 
Based on its features, ACON is one of the longest-lasting spring trampolines you can buy. Their warranty hints that their Trampolines can last for 5-10 years but would likely need trampoline replacement part changes (spring padding, springs, net) to keep the trampoline in good condition.  
Winner: Springfree.  
Why? If you follow basic trampoline safety rules, each of the nine Springfree Trampolines is built to last for 10+ years with little maintenance required.  
ACON's Trampolines will be able to last longer than most trampolines if reasonably used, although it might vary depending on whether you get a Standard or Premium Trampoline. 
Whereas Springfree Trampolines may only need minor replacement part changes under normal circumstances over 10 years, ACON's Trampolines will usually require more extensive changes. This may include having to change the springs and padding every couple of years. 
Trampoline Design  
Springfree   
The Springfree Trampoline design is unique and can add to a backyard's aesthetic with its sleek contemporary appearance. It's also the only trampoline on the market that can be fully customized using seven different colors.   
ACON 
ACON's trampoline design is distinctive and can add to the visual appeal of a backyard. They come with a Nordic design that typically includes green safety padding. They also have black and blue safety padding on some trampolines.  
Winner: Springfree  
Why? Beauty is subjective, so whether a Springfree or ACON Trampoline looks better will depend on your personal preferences. Both have fashionable designs.  
The reason Springfree gets the nod in the Design category is because of their trampoline customization options. You can choose from seven different colors and customize key aspects of the trampoline to your liking – something no other brand offers. 
How a Springfree Trampoline looks in a backyard:  
How an ACON Trampoline looks in a backyard, courtesy of ProTrampolines: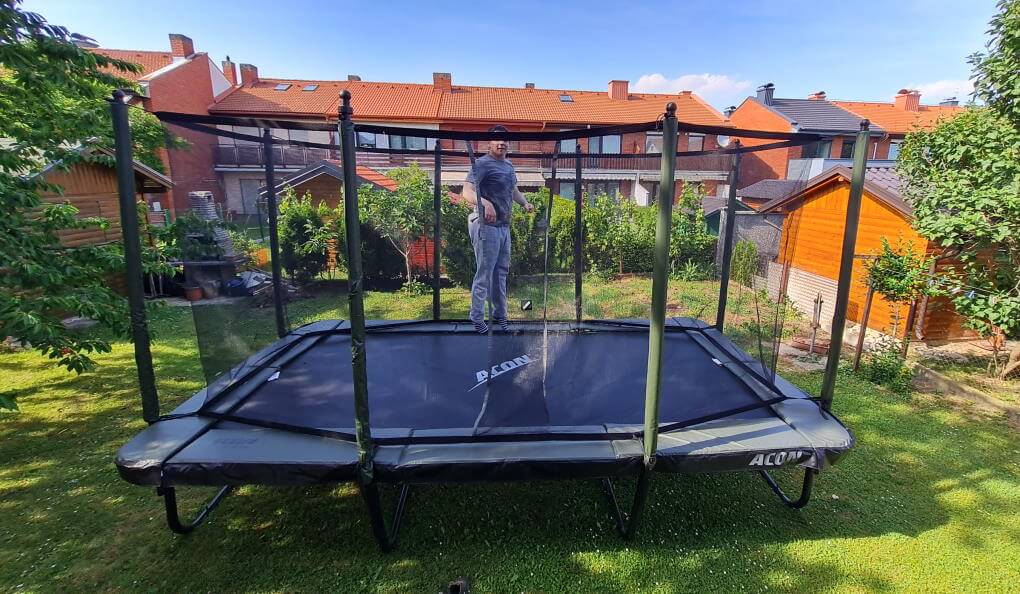 Trampoline Pricing  
Springfree   
Springfree Trampolines are priced at a premium and are among the most expensive trampolines on the market. They range from $799-$3,999 depending on the size that you choose. Trampoline financing is offered by Springfree.  
ACON 
ACON's Trampolines are also among the most expensive on the market. Their outdoor trampolines range from $669-$3,638 depending on which size/shape you choose. ACON does offer financing, as well. 
Winner: ACON 
Why? Both Springfree and ACON are among the most expensive trampolines you can buy because they are quality built and uniquely designed. Both brands price most of their outdoor trampolines around $1,000-$3,000. 
ACON gets the nod since they are slightly less expensive. However, there is not a huge difference between each brand's trampoline costs.  
Acon Trampoline vs. Springfree: 4 Other Factors  
Let's now cover four other categories you may want to consider when choosing between ACON or Springfree. 
These are not as important as the five discussed above, but they can play a role in your decision. 
Trampoline Weight Limit
Winner: Can't compare. 
Why? Springfree's smaller Trampolines have a 175-pound single jumper weight limit, and their medium-big Trampolines have a weight limit of 220 pounds.  
ACON doesn't list a single jumper weight limit for their Trampolines, which means we can't accurately compare the two brands.  
Bounce Quality 
Winner: ACON 
Why? ACON may arguably have the best bounce in the industry. Their Performance Springs are quite impressive at providing a high bounce.  
Springfree's bounce quality is on par in height with most spring trampolines. They do offer a smoother, less jarring bounce than trampolines with springs because of the mat rods.  
Trampoline Installation  
Winner: ACON. 
Why? You may run into complications on installation with both trampoline brands. Since Springfree Trampolines are more unique and the mat rods are notoriously difficult to get into the sockets, ACON's Trampolines will likely be more straightforward to assemble.  
**You can opt for professional trampoline installation on Springfree Trampolines for $399. There are also 3D step-by-step instructions on the BILT App and most Springfree customers install their trampoline by themselves.  
Trampoline Accessories  
Winner: Tie. 
Why? Springfree offers high-quality trampoline accessories—for trampolines and backyards—and their FlexrHoop is one of the best trampoline basketball hoops you can buy. They also contain weather-related accessories, like a Sunshade and Cover.   
ACON's Hoop made our Best Trampoline Basketball Hoops List, and they sell three different kinds of hoops. Besides that, ACON's Accessories include a weather cover, a trampoline tent, a crash mat and trampoline wheels.  
Both are on the pricey side of trampoline accessories. This is a close one to call, but ACON's three different hoop options give it the advantage over Springfree. 
Note: Trampoline accessories are usually made for a particular brand's trampoline. So, a Springfree Hoop wouldn't be compatible with a Skywalker Trampoline, and vice-versa.   
Springfree Basketball Hoop:   
ACON Basketball Hoop, courtesy of ACON:  
Which Trampoline Brand Is Right for You?  
There's a reason ACON and Springfree Trampoline reign as two of the best trampoline brands. They each specialize in key areas and have a history of customer satisfaction.   
This comparison was lengthy, so here are some highlights and lowlights for each brand:  
Springfree Trampoline – The brand with the safest, highest quality and longest-lasting Trampoline you can buy. Includes a unique design and should last for 10+ years. They are pricey and can be difficult to assemble, though.   

ACON – The brand with arguably the highest bounce in the business, ACON has quality-built trampolines with a stylish Nordic design. However, ACON's trampolines come with some major safety concerns, particularly with their spring exposure and static poles. 
What is the best brand for you? That will depend on your goals. With all the information you've gathered in this article, though, you should be able to make an informed decision on which brand to choose! 
Want to See Another Trampoline Brand Comparison? 
You've seen how Springfree Trampoline compares to ACON, but how does Springfree match up with other brands? 
If you're still unsure about which trampoline brand to choose, you may need to see more options.  
Since our goal is to ensure you are educated before making a trampoline decision, we have compiled another comparison for you (linked below!). This one pits Springfree against another premier brand, Skywalker Trampolines! 
Check it out: Springfree Trampoline vs. Skywalker Trampolines | A Fair Comparison