The Truth About Springfree Trampoline's Bounce Quality
Discover the truth about Springfree Trampolines' bounce quality directly from the source! Learn how our springless trampolines compare to spring-based trampolines.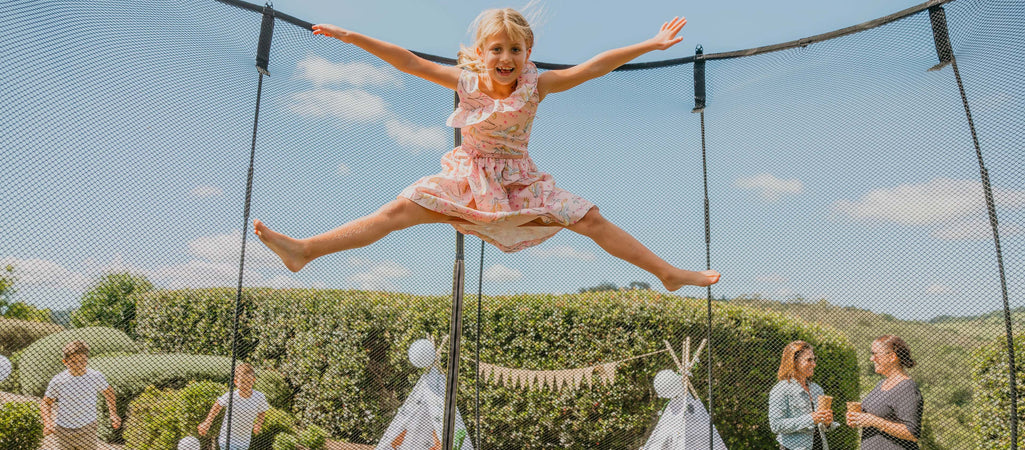 It's fair to say – and maybe a bit obvious – but the bounce on a trampoline is pretty important. It is, after all, the reason we love to get on a trampoline. 
Springfree Trampolines don't use the traditional metal springs to provide the bounce, which makes some question the quality of the bounce. 
Today, you're going to learn the truth about Springfree Trampolines' bounce quality from the source itself! 
We at Springfree Trampoline are upfront about every aspect of our Trampolines, and in this article, you will learn how Springfree Trampolines provide the bounce and how they compare to spring-based trampolines. 
How Springfree Trampolines Provide the Bounce
The rationale behind the springless trampoline, invented by Springfree Trampoline, is to eliminate metal springs – which are notorious for pinching jumpers and causing a number of other trampoline injuries. 
Springfree Trampolines use flexible composite rods that are 3x stronger than steel and 4x more flexible to replace metal springs. See the image below for a close-up view of the mat rods:   
So, how do these mat rods provide a solid bounce? Let's get a little 'sciencey' to break it down:  
The Science Behind the Springfree Trampoline Bounce
What do you consider to be "bouncy?" Is it simply just the height you can get on a trampoline?   
There are actually more things to look for when it comes to a trampoline's bounciness, including:    
Mat firmness.

 

How deep or harsh the bounce is.

 

The trampolines' shape. 

 

The jumper's size. 

 

The jump height.

 

The jumper's size. 

 

The jump height.

 
From the technical perspective: "Bounciness is the amount of energy that the trampoline gives back to the jumper on each bounce. The more this is, the higher the jumper will go after a few bounces," according to our Springfree Trampoline Whitepaper. 
Springfree Trampolines are designed to provide a soft, deep bounce, which differs from spring trampolines which typically use short and stiff springs that can cause a harsh bounce.  
Springfree Trampoline rods are designed to be equivalent in stiffness to the long 10-inch trampoline springs (the longer the springs, the higher the bounce) while many trampolines are fitted with springs that are small in diameter and 6 to 8 inches long with three times the stiffness. 
A softer bounce is recommended by many doctors and coaches because they are much gentler on the jumper's joints. This reduces the chance of suffering trampoline injuries, such as joint and muscle strain injuries. 
But trampoline springs are not the only thing that impacts the bounciness of a trampoline. The trampoline mat also plays a big part in determining how bouncy a trampoline is.  
After conducting tests in the 'Springfree lab' we were able to confirm most of the wasted energy on trampolines is lost by air-pumping, caused by the trampoline mat motion. Smaller mats, therefore, lose less energy.   
Springfree Trampolines have more porosity, which means they pump less air and instead give that energy back to the jumper. More porosity = more height.  
The fabric of the Springfree Trampoline mat provides porosity equivalent to spring trampolines of the same trampoline size.  
Okay, that's a lot of technical details. Now that you understand some of the technicalities behind the Springfree Trampoline bounce, how does a springless bounce compare to a spring-based bounce?
Springfree vs. Spring Trampoline Bounce
Do Springfree Trampolines bounce well? Here's the truth: Springfree's bounciness is similar to most spring-based trampolines in height.  
In fact, you can argue that the bounce of a Springfree Trampoline is better because it provides a smooth, non-jarring bounce that is significantly safer than a spring trampoline. After all, the rods lie beneath the mat and out of harm's way.   
Now, some higher-end trampoline brands may technically provide a higher bounce. Acon, for example, has Performance Springs you can opt to include that would be able to deliver a higher bounce than a Springfree with a similarly sized jumper.  
The thing is, for most jumpers, getting the highest bounce is not necessary: Getting a high bounce while landing safely is.   
Besides the mat rods' placement underneath the jumping surface, Springfree Trampolines all come with a mat that has no hard edges and is 30 times more shock absorbent than the safety padding you would find on a spring trampoline. 
Taken all together, a Springfree's ability to deliver a bounce similar to a spring trampoline while being, objectively speaking, the safest trampoline to jump on, gives it a unique edge over spring trampolines.   
It also should be noted that, because Springfree Trampolines don't use springs, they maximize the amount of jumping room you have. On spring trampolines, the springs can take up around 2 ft of jumping space.  
So, if you bought a 14 ft spring trampoline, you may only have 12 ft of jumping room. Not only is the bounce itself important, but so is the amount of jumping space – especially if you have growing children!  
Check out the video below to see Dr. Keith Alexander, the inventor of the Springfree Trampoline, discuss the differences between the Springfree bounce and a spring bounce:   
Springfree Trampoline Customers Review the Bounce
While we can share plenty of data about the Springfree bounce, it might be more impactful to hear it from Springfree customers themselves. So, we thought we'd some of the feedback we've received, with you, below: 
Customer Review #1: This is one amazing little tramp- small but mighty! Lots of  bounce and perfect size for our yard.  
Customer Review #2: We upgraded from another popular brand and would highly recommend Springfree - quality and aesthetic can't be beat! Has great  bounce  for my little gymnast and kids find it really easy to get in and out of it with the large zip closure size (previous trampoline from another brand was quite awkward). 
Customer Review #3: Perfect size, bounce factor and comfort in the kids independent use of it. 
Customer Review #4: Not only the product is unique and unlike anything else in the market with unbelievable  bounce, safety and strength, but the company, product and customer support are an example.  
Customer Review #5: The bounce of the trampoline is level and doesn't throw little ones around like I've seen in other trampolines.  
Customer Review #6: We researched many different brands and are so glad we got the Springfree, it is so safe, easy to move around (to save the grass) and has an awesome  bounce!  
Any Other Questions About Springfree Trampoline?
The bounce is just one of the many crucial aspects to look for when buying a trampoline.  
Now that you know the truth about the Springfree Trampoline bounce, you might be curious to learn more about our springless trampolines. 
We want to make sure you're as informed as possible so you can make an educated trampoline purchase for your family.   
We have rounded up 20 of the most common questions we receive at Springfree Trampoline and have provided quick and direct answers to each of them. Some topics included in the article below are:  
Springfree Trampoline sales + promotions

 

Are Springfree Trampolines safer

 

Springfree Trampoline weight limits

 

How long Springfree Trampolines last

 

Are Springfree Trampolines worth it

 
Check out our article, "Answering Your Most Pressing Questions About Springfree Trampoline," and get all the facts so you can make an educated decision on a Springfree Trampoline!