The Ultimate Guide to Trampoline Rental | Pros and Cons Uncovered
Everything you need to know about trampoline rental, from the pros and cons to tips on how to choose the right trampoline. Read our guide today!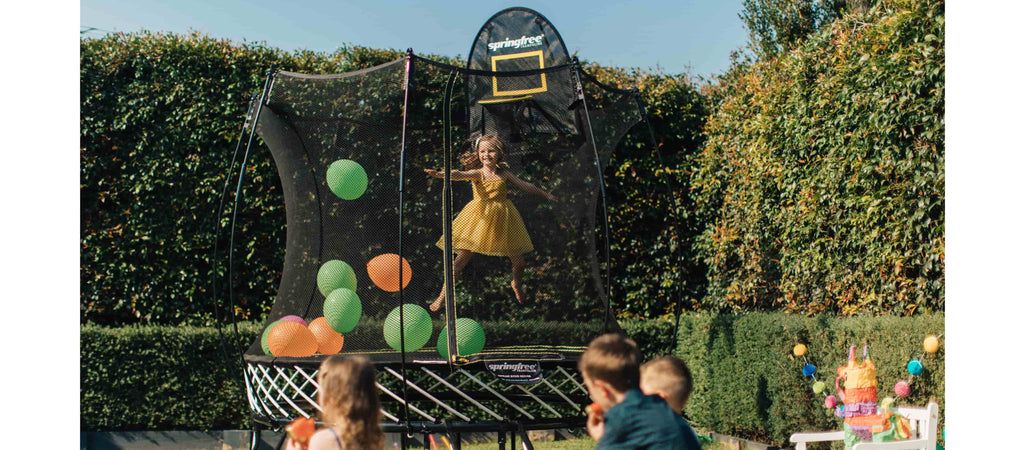 If you're hosting a child's birthday party or thinking about buying a trampoline, choosing a trampoline rental can be a great option. But there are some questions you need to ponder first: 
What type of trampoline do you want to rent?  
What are the pros and cons of renting a trampoline? 
How much does a trampoline rental cost? 
Would it be more cost-effective to buy your own trampoline? 
We will use our decades of trampoline expertise to provide honest answers to these questions in this article – let's jump right in! 
Disclaimer: At Springfree Trampoline, we do not offer trampoline rentals but wanted to make this information available to anybody who's considering it.  
Why Choose a Rental Trampoline?  
Trampoline rentals are primarily chosen for special occasions – like a kids' birthday party -- or to try before you buy. We've likely all jumped on, or at least seen, a rental trampoline in a backyard before. 
Trampoline rentals for parties require no long-term commitment and will typically be set up by the party equipment rental service you're using. As we will go over in the next section, there are multiple types of rental trampolines you can choose from.  
4 Common Types of Trampolines Rentals 
First things first when considering a trampoline rental is which type of trampoline you want to rent. The following are the common types of trampoline rentals:
1. Bounce Houses   
Bounce houses, also called bounce castles, moonwalks or inflatable jumpers, are inflatable structures that are a common sight at children's birthday parties/events.   
Bounce house rentals come in many shapes, sizes and themes, and can also include additional features, like water slides and obstacle courses.  
Bounce houses cost around $125-$300 to rent for a certain amount of time (i.e., for six hours). They can up to $600+, depending on which bounce house you rent and for how long. If you're looking to rent a trampoline for a birthday party, a bounce house serves as a good option.  
Photo courtesy of Laugh n Leap. 
2. Bungee Trampolines 
Bungee trampolines are another common rental trampoline, as they provide a gravity-defying experience in a controlled environment.   
You typically see bungee trampolines consisting of multiple trampoline beds (as shown in the picture above). They use bungee cords or elastic ropes to provide the bounce and are often seen at amusement parks, fairs, carnivals and entertainment venues.    
Bungee trampoline rental can be expensive: You could be paying $150-$450 an hour for a single unit. A full-day rental could cost up to $1500+ for a single unit.   
Photo courtesy of Elite Special Events.   
3. Backyard Trampolines 
There are also certain places where you can rent a backyard trampoline, which is probably what you think of when you think "trampoline".  
Common features include metal trampoline springs (or composite rods, as shown above on a springless trampoline), an enclosure net, padding and accessories like a trampoline basketball hoop.  
To rent a backyard trampoline for a day, you could be paying anywhere from $100-$300+, depending on your location, the quality and size of trampoline rented, and additional services provided.   
4. Trampoline Parks 
Trampoline parks, like SkyZone or Altitude, are another place where you can rent space for parties or events. These parks are equipped with a variety of interconnected trampolines, foam pits, and other features that provide a fun environment for visitors to bounce.  
Trampoline parks have become popular destinations for individuals and families looking for an active and entertaining experience.  
To rent a trampoline park, you could be looking at paying $100-$500 an hour. Party packages can range from $200-$1,000+ depending on the location, duration of rental and what's included in the package.   
Photo courtesy of Altitude Trampoline Park.   
Pros of Trampoline Rentals 
Now, let's run through some advantages of renting a trampoline: 
Pro #1: Affordability: Trampoline rentals are often more budget-friendly than purchasing a trampoline outright – although this also depends on the trampoline type you rent. 
Pro #2: No Long-Term Commitment: If you're unsure about whether a trampoline is right for your family or you only need it for a short period, renting allows you to enjoy the fun without a long-term commitment. 
Pro #3: Variety: Trampoline rental companies often offer various trampoline sizes and types, allowing you to choose one that suits your needs and preferences.  
Examples of different bounce houses offered by a party equipment rental service (courtesy of Bounce 'N' More): 
Pro #4: Maintenance: Rental trampolines are typically maintained by the rental company, saving you the hassle and cost of upkeep. 
Pro #5: Special Occasions: Trampoline rentals are great for parties and events, especially children's parties! 
Pro #6: Try Before You Buy: Renting can be a way to test different backyard trampolines before deciding on a specific model if you're considering purchasing one in the future.   
Cons of Trampoline Rentals 
Let's flip it over and cover the disadvantages of renting a trampoline:   
Con #1: No Ownership: When you rent a trampoline, you don't own it. This means you must return it when the rental period ends. 
Con #2: Potential High Cost: While backyard trampolines and basic bounce houses may not cost as much to rent, bungee trampolines and trampoline parks may cost you $500+ to rent. 
Con #3: Safety Concerns: As with any trampoline, there is a risk of suffering a trampoline injury if you don't use it correctly or an accident occurs. 
Con #4: Availability: The availability of rental trampolines can be limited, especially during peak seasons. You may not always find the specific size or type of trampoline you want to rent. 
Con #5: Rental Terms: Rental agreements may come with strict terms and conditions, such as usage restrictions or penalties for damage. Make sure you understand and are comfortable with these terms before renting. 
Con #6: Inability to Customize: Renting a trampoline typically limits your ability to customize it or add trampoline accessories. If you have specific preferences or want to personalize your trampoline, renting may not provide that option.  
Expert Tips for Renting a Trampoline 
Here are some tips to ensure a smooth trampoline rental experience:  
Research rental companies - Look for reputable trampoline rental companies in your area. Simply type in "trampoline rental near me" and assess your options.  
Choose the right trampoline type - Consider factors like the number of users, available space, safety features, number of trampolines and occasion to find the right type of trampoline.   
Review rental agreements closely - Pay attention to rental duration, costs, maintenance responsibilities, and any restrictions! 
Ask about safety measures - Ensure that the trampoline meets trampoline safety standards and is in good condition. Make sure to follow safe jumping rules! 
Inspect the trampoline rental - Before accepting the rental trampoline, inspect it for any damage or missing parts. Document any issues and inform the rental company to avoid liability for pre-existing damage. DO NOT use if you have concerns about the trampoline's safety.    
Ask about delivery/setup - Check whether the rental company offers delivery and setup services. Also, clarify if you have any maintenance responsibilities.  
Consider long-term jumping goals – Are you looking to rent a trampoline for a day? Or do you have plans to buy a trampoline in the future?    
That last tip segues us perfectly into our next section… 
Trampoline Rental or Buy a Trampoline?  
Renting a trampoline can be a convenient option for your child's birthday party or for testing out a trampoline before making a purchase.  
If you desire a bounce house, bungee trampoline, or another specialty trampoline type, then choosing to rent a trampoline for a day would be a wise decision. For these types of unique trampolines, renting offers flexibility and variety for special occasions and events.  
However, when it comes to a backyard trampoline, the decision to rent may not be the ideal choice for most situations.   
A Springfree Trampoline: 
Backyard trampolines are typically designed for long-term use and enjoyment. They provide a consistent source of fun, trampoline exercise, and entertainment for your family for years, not just a day.   
Also, renting a backyard trampoline for extended periods can be cost-prohibitive compared to the value of owning one.  
While trampoline rentals can be an excellent choice for certain occasions and specialty trampolines, owning a backyard trampoline is often the more cost-effective and practical choice for families looking to make trampolining a regular part of their outdoor activities.  
Is a Springfree Trampoline Right for You?  
After reading this article, you should feel confident in your knowledge of trampoline rentals and be well on your way to making an informed decision.  
But, if you're starting to think about a long-term trampoline, you may be curious to see which brand would be right for you.  
We at Springfree Trampoline created the safest, highest-quality and longest-lasting trampolines on the market. If you're looking for a reliable trampoline to keep your kids safe for the long haul, you won't find a better option.  
To gauge whether investing in a Springfree Trampoline is a wise decision for your family, dive into our article titled "Are Springfree Trampolines Worth the Money?" It offers a thorough and candid evaluation to help you make an informed choice!