What You Need to Know About ASTM Trampoline Standards
ASTM Certified Trampolines: Find out what it means for your family's safety. Get the facts on trampoline standards and why they're so important!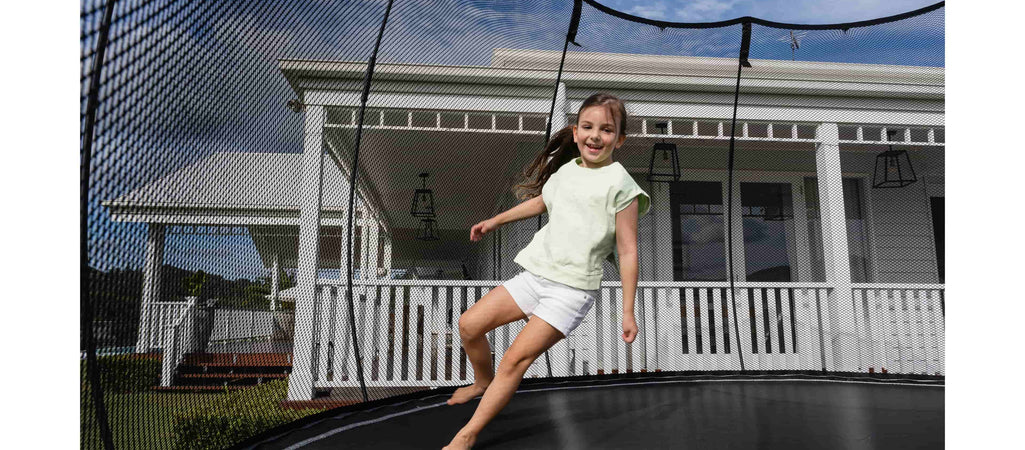 When you search for a trampoline online, you may notice that it says something like, "ASTM Certified." 
What does "ASTM Certified" mean, though? 
ASTM is the leading provider of trampoline standards in North America If you're concerned about trampoline safety, ASTM Trampoline Standards are worth looking into.  
As sellers of the world's safest trampolines – that meet all ASTM Trampoline Standards – we are properly suited to share our expertise on the subject. Let's get to it!  
At Springfree Trampoline, we are active members of the ASTM Trampoline Standards Committee because we are committed to furthering the safety of trampolines. We have and will continue to play an instrumental role in advancing trampoline standards to ensure the safety of children across the world.   
What Is ASTM?
ASTM International (American Society for Testing Materials) is a "globally recognized leader in the development and delivery of voluntary consensus standards."     
They are an independent body made up of 140 technical standards-writing committees that encompass multiple industries, from construction to metals to trampolines. 
ASTM's chief goals are to "improve product quality, enhance health and safety, strengthen market access and trade, and build consumer confidence."  
What Are ASTM Trampoline Standards?
ASTM began creating standards for trampolines in the 1980s. Trampoline injuries in children began to increase around this time, and for trampolines to still be sold in the US, safety measures had to be taken.  
Some of the first trampoline standards involved the addition of padding over the metal springs and frame and later the enclosure nets to protect jumpers from falling off.   
Why Are ASTM Trampoline Standards Important?
Trampoline standards are designed to make trampolines safer. They gather the combined knowledge of generations of trampoline manufacturers and researchers into concise documents.  
If not used properly, trampolines can be dangerous. Approximately 100,000 trampoline injuries occur each year on trampolines, and standards are there to reduce these.  
Trampoline standards are like the standards you would find for cars and houses: They exist to make the product safer and help make it easier to communicate about the product's safety.   
While most standards are voluntary (they are not laws), manufacturers nowadays follow the standards to get ASTM Certified. Many retailers, like Walmart or Amazon, will not sell a trampoline if it's not ASTM Certified.   
Example of the retailer, Lowes, advertising ASTM Certified Trampolines: 
3 Important ASTM Trampoline Standards
Trampoline standards can get quite…detailed. That being the case, we're not going to bore you too much with the details.   
However, there are three main trampoline standards you should know about. Let's go over each of them briefly:   
1. ASTM F381
ASTM F381 is a core Standard that covers "the components, the assembly, and the use of consumer trampolines." Some of the safety features included in this Standard include:   
The frame must be strong enough to absorb the impact of the personjumping on it.

 

The pads must have adequate impact attenuation properties to protect a head from hitting the frame.

 
A trampoline being sold should include "a frame, a bed, a suspension system, frame padding, enclosure net, information packet and suitable marking," according to the Standard.

 

Safe Use warnings must be visible to anyone about to use a trampoline.

 

A safe user-weight must be specified by the manufacturer, based on tests. This indicates the safe use limit for heavier jumpers.

 

Padding covers and retention straps must be tested and shown to last in outdoor conditions.

 

 
2. ASTM F2225  
ASTM F225 is an important standard, as it details the safety requirements for trampoline enclosures. These include: 
The net material and its connection strapping must be shown to last well in outdoor conditions.

 

The net material and the net door must be able to survive impact tests without breaking.

 

Nets must be a certain minimum height.

 

The net needs to be connected well at the bottom so jumpers cannot slide out under the net.

 

Support poles must not provide additional impact hazards. 

 
An enclosure net for a trampoline is a MUST for safety purposes. According to Policygenius, and Springfree's own research, 27%-39% of trampoline injuries are caused by people falling off trampolines.    
The enclosure net protects jumpers from falling off the trampoline, but not all nets are created equal.   
For example, the net on a cheap trampoline will often deteriorate quickly and fall apart, offering no protection at all, while the net on a high-quality trampoline – like our Springfree Trampolines -- will typically last around 10 years. 
The Springfree Trampoline Net: 
This is primarily due to the material used and the UV resistance it includes. The enclosure net is a pillar of trampoline safety: You should NEVER jump on a backyard trampoline without a net! The most serious injuries occur from people falling off.  
3. ASTM F2774 
The third standard you should take note of is the ASTM F2774 Standard, which is concerned with the trampoline mat.   
It covers the testing for mat quality and gives mat manufacturers a baseline to produce mats that can last outdoors for over 10 years.  
Another important trampoline standard that doesn't relate to backyard trampolines, but to trampoline parks instead, is ASTM F2970. It lays out general safety measures that trampoline parks should take to keep jumpers safe.    
How Does a Trampoline Become ASTM Certified?
You now understand the importance of ASTM Trampoline Standards. So, how does a trampoline become "ASTM Certified?"  
For a trampoline to become ASTM Certified, it must undergo a compliance test that covers the safety measures detailed in the Standards (like the ones listed above). 
They may also have to undergo further testing depending on the retailer who's buying the trampoline This further testing might be checking for lead in the paint, poisons, sharp edges, etc. Testing also may vary depending on what country or region you live in.  
If you're picturing an expert with a clipboard checking off a list of requirements, you're right.   
Compliance testing can be a long process, but manufacturers need to have these tests done before stores like Walmart or Costco will accept them. It also means that trampolines adhere to globally accepted standards and are manufactured to be a safe product for our children to use.  
Trampoline Safety Tips
We know, the ASTM safety standards for trampolines can be boring for most. However, they set expectations for what a safe trampoline should look like and have proven to decrease the number of injuries on a trampoline.  
However, just because a trampoline is ASTM Certified doesn't mean you're free from harm. Follow these expert trampoline safety tips below to ensure your child's safety once the trampoline is in your backyard: 
Make sure the trampoline is installed correctly and contains 3-5 ft of clearance space from surrounding objects. 

 

Follow the "One Jumper at a Time" Rule!

 

No flips or tricks unless professionally trained.

 

Avoid roughhousing.

 

No pets allowed.

 

Adhere to the individual

trampoline weight limit

.

 

Periodically clean and inspect your trampoline for damage/deterioration.

 

Order

trampoline replacement parts

if you notice problems with the padding, net, mat or other component. 

 

Supervise your children at all times.

 

Never go underneath the trampoline.

 

Jump in the center of the mat (the safest part of the trampoline).

 

Make sure to enter/exit safely (use a

trampoline ladder

for young children).

 

Set expectations for rule-following and let your children know the consequences if safety rules are not followed. 

 
Safer Trampolines to Buy This Year
Buying an ASTM-Certified trampoline is the minimum bar for getting a safe trampoline. Following basic trampoline safety rules will further decrease your chances of suffering a trampoline injury.   
What's the best thing you can do to ensure optimal trampoline safety, though? Buying a safe trampoline the first time around.   
Even though two trampolines could meet ASTM Trampoline Standards, they may not be equal when it comes to safety.   
At Springfree Trampoline, safety is our top priority. Our springless trampolines are the only type of trampoline to eliminate 90% of product-related injuries.  
With safety being a central component of our essence, we have expert insight into what to look for in a safe trampoline. In fact, we have used our wisdom to round up an objective list of the safer trampolines to buy this year (linked below!).  
Check it out: 3 Safer Trampolines to Buy This Year | Pros, Cons, Cost