How to Anchor a Trampoline: A Step-By-Step Guide 
Protect your trampoline from the elements with our step-by-step guide on how to anchor a trampoline. Learn tips now from the experts at Springfree Trampoline!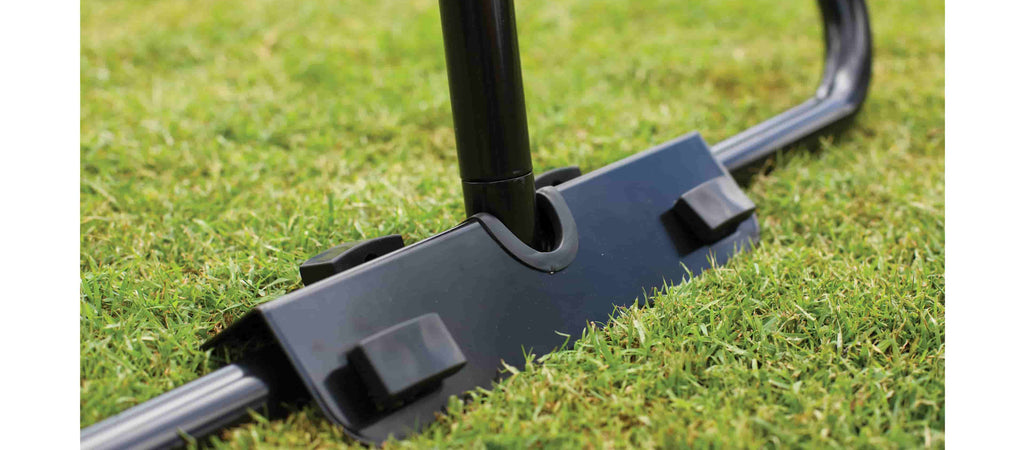 Have you been asking questions like:  
"How do I keep my trampoline from blowing away?"  

"How do you anchor a trampoline to the ground?" 

"Should I anchor my trampoline?" 
Anchoring a trampoline can save it from permanent damage caused by the weather. It can also provide an extra semblance of safety and stability for your jumpers.  
But you must anchor your trampoline correctly to ensure maximum protection from strong winds and stormy weather.  
So, what are the answers to the questions above?  We've got them all in this article, where we will lean on our decades of expertise as a springless trampoline innovator and manufacturer to help you avoid losing your trampoline to Mother Nature! 
Why Anchor a Trampoline?  
Here are the primary reasons why you must anchor your trampoline: 
Keeps the trampoline from blowing away under strong winds. 

Less likely you will have to move the trampoline to prepare for an upcoming storm.  

Adds another layer of stability so it doesn't tilt when jumped on. 

More peace of mind for parents while the kids are jumping. 
If you live in an area that experiences constant storms, anchoring your trampoline is a must to prolong its lifespan.  
Even if you don't live in a wind-heavy area, it's still smart to anchor your trampoline for extra stability – especially if you have a cheap trampoline that may not last past 1-3 years. 
How to Anchor a Trampoline to the Ground  
Now, let's get into how to anchor your trampoline to keep it from blowing away: 
Step 1: Find the Right Trampoline Anchors 
The first step to anchoring your trampoline is finding the correct anchors for your trampoline model.  
A lot of times, the manufacturer of your trampoline will include or sell their own anchors. It's best to look at the trampoline brand you have (i.e. Springfree, ACON, Skywalker, Jumpking, etc.) and check to see if you received anchors as a part of your purchase.  
If not, checking to see if your brand sells anchors would be recommended. If that fails, you can find anchors, or wind stakes, at retailers like The Home Depot.  
Step 2: Install the Trampoline Anchors 
After purchasing the right anchors, you will now want to install the anchors to your trampoline. The exact steps will depend on the type of anchors (wind stakes, auger-style anchors, etc.) you buy and which brand of trampoline you have. 
We're going to go over how to properly secure anchors to a Springfree Trampoline to give you an example of what this process could look like: 
How to Install Trampoline Anchors on a Springfree Trampoline  
Each Springfree Ground Anchor Kit ($99) comes with four anchors that work for all models (although the Jumbo Trampoline models may require two sets of anchors ($139). These steps are straight from the Springfree Ground Anchor Installation Instructions:   
Place the anchor over the middle of the trampoline leg with the center post firmly positioned in the center of the anchor.  

Position the second anchor in a similar fashion on the leg on the opposite side of the trampoline. 

Use a rubber mallet to hammer the pegs into the ground. We recommend alternating between a front peg and a back peg during installation to ensure the anchor is tight against the leg.   

Ensure all of the pegs are installed to their full depth. 
Again, these steps will be different depending on the type of trampoline and the type of anchors you have. But this will give you a feel for what it's like to anchor a trampoline to the ground! 
Step 3: Check the Trampoline Anchors 
Finally, once you install the anchors to the trampoline, you will need to periodically inspect the anchors to make sure they are secure to the ground, as soil conditions might change over time. You will also want to be careful when mowing around the anchors. 
Heavy-Duty Trampoline Anchors to Buy 
We're going to provide you with a list of heavy-duty trampoline anchors to buy, so no matter what brand you have, you won't have to look any further for anchors: 
Note: Make sure the anchors you buy are compatible with your trampoline. A different brand's anchors likely won't fit securely on your brand's trampoline! 
Trampoline anchors range from under $20 to over $100, depending on which ones you get. You may also want to put sandbags on the trampoline's legs to provide extra weight if you're worried the anchors won't be enough.  
Sandbags can also be the answer to how to secure a trampoline without stakes or anchors, however, anchors would be recommended to ensure optimal sturdiness.  
Should You Anchor Your Trampoline? 
Anchoring a trampoline can be a must for some and not as important for others.  
You need to analyze the stability of your trampoline, project how much you're going to move the trampoline around and assess the weather patterns in your area. In windy environments, it might be best to anchor your trampoline, especially if it is not a high-quality trampoline.  
But trampoline anchors aren't perfect. If you're expecting heavy storms, like a hurricane or tornado, you will want to move the trampoline to a secure location like your garage. 
The extra stability offered by anchors is noteworthy, so even if you're not worried about your trampoline blowing away under heavy winds, anchoring your trampoline could be worth it for the safety benefits.   
The quality of your trampoline matters too: If you have a high-quality trampoline, the chances of it blowing away in a storm or becoming unstable while jumping are less likely due to the premium construction of the trampoline. 
Watch how a Springfree Trampoline survived 106 mph winds:
What Other Trampoline Accessories Do You Need? 
Trampoline anchors or wind stakes are trampoline accessories worth purchasing for those that want further protection from the wind or extra stability while their kids are jumping.  
Trampoline accessories are a crucial part of owning a trampoline and anchors are just one of the many you can include with your trampoline purchase. 
 Here are some other trampoline accessories to look into: 
At Springfree Trampoline, we want to provide you with the resources for not only getting the right trampoline for your family but also the "extras" like accessories that can make your trampoline safer and more enjoyable.  
Read through our blog, "14 Accessories You Can Buy for a Trampoline," to see how you can upgrade your trampoline experience.  
If you have a Springfree Trampoline or are looking to get one, check out our Trampoline Accessories to see which ones are a fit for you!