Should You Buy a Used Trampoline? | Pros & Cons
Curious about buying a used trampoline? Read our honest breakdown of the pros and cons of used trampolines to decide whether one is right for you!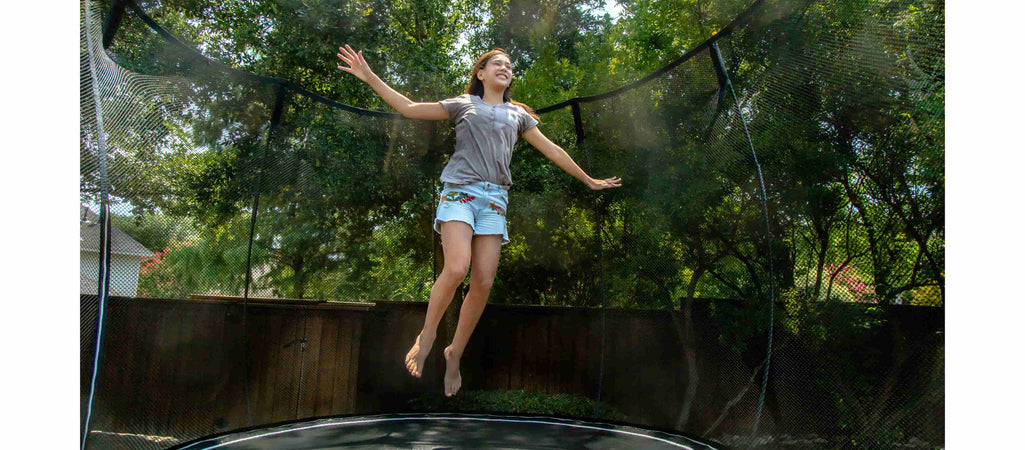 Buying a used trampoline is appealing for some families looking to find a good trampoline for a better price. 
But before you commit to a used trampoline, it's important that you know both the good and the bad of trampolines that have been previously used.  
You don't want to buy a used trampoline without first considering its downsides relative to cost. It can lead to unintended consequences, the worst of which is an injury suffered by your child on a trampoline that contained numerous safety hazards.  
Using our decades of experience as a springless trampoline innovator and manufacturer, we will objectively walk you through the pros and cons of used trampolines, touching on all the key areas of consideration.  
After reading this, you can make an educated decision on whether buying a trampoline used is the way to go for you! 
3 Pros of Buying a Used Trampoline 
Let's start with the good news about used trampolines first. Here are three primary pros to buying a used trampoline: 
Cheaper Than Buying a New Trampoline 
Every one of us, at some point, has bought a product used.  
It could've been a car, a piece of furniture or an article of clothing. When you think back to your rationale for buying a used product, what was the reason behind it? 
If you're like most, then it's because buying used netted you a better price than buying new.  
That same concept applies to trampolines: Trampolines are depreciating assets, which means they lose value with time.  
You will rarely see a trampoline that has been previously used consistently sold for close to what it was originally bought for. Some trampoline owners will go as far as to just give their trampoline away for free when they are done with it.  
The cost of a trampoline is more than you might think, especially if you're looking for a quality trampoline. That is precisely why used trampolines are enticing to some aspiring trampoline owners. 
Can Get a Quality Trampoline for a Better Price  
Building on that last point, buying a trampoline used may also give you a better price for a premium trampoline. 
Take our Springfree Trampolines, for example. They are likely the most expensive trampolines you can buy on the market, costing between $799-$3,999.  
Buying a new Springfree Trampoline may not be justifiable to you. But if that Springfree Trampoline costs half of its MSRP (Manufacturer's Suggested Retail Price) because it has been previously used, then that is appealing for some that wouldn't want to pay the original price.  
May Come With Trampoline Accessories 
Another pro of buying a trampoline used is some sellers might include previously purchased accessories with the trampoline. 
Common trampoline accessories include trampoline basketball hoops, a trampoline cover or trampoline wheels to move the trampoline more easily.  
3 Cons of Buying a Used Trampoline 
Let's flip it over and deliver the bad news about used trampolines. Here are three cons to buying a trampoline used:  
Likely Comes With Wear and Tear 
The overwhelming con to purchasing a trampoline used is it's likely not going to be in mint condition when you buy it. 
This of course depends on how it was being used by the previous owner. If the trampoline was sporadically used and housed in a fair-weather environment, then it may not come with much wear and tear. 
However, if the previous owner had kids who used it frequently and it has already started to show signs of aging (rusting, mat deterioration), then it could lead to multiple consequences. 
Chief among them is safety. A trampoline that is showing major signs of wear and tear could lead to a trampoline injury for your jumpers. 
Common safety concerns among used trampolines could include: 
Holes in the net or mat that could expose a falling area. 

Breakdown of padding that covers the springs and metal poles—both posing the potential for injury. 

Weather-related damage, like rusting, that could weaken the structure of the trampoline and increase its chances of breaking down. 
Example of a rusted trampoline frame and spring, courtesy of Get Trampoline: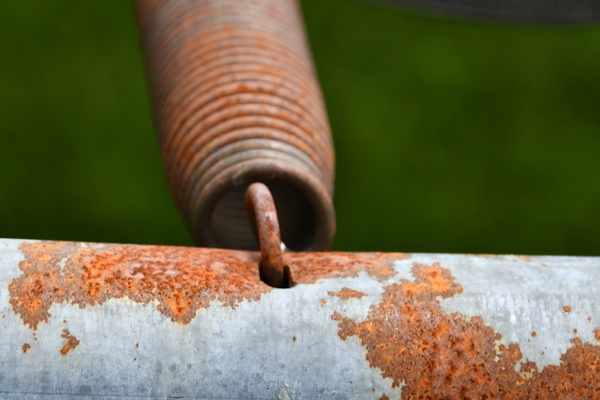 May Not Last for Long 
The next consequence of buying a used trampoline---especially one with wear and tear—is it may not be able to last for a reasonable amount of time. 
Wear and tear is a huge determinator in how long a trampoline will last, but so is the type of trampoline you're purchasing. If the trampoline was bought for $200 at Walmart and has already endured years of jumping and weather damage, you can assume that it's probably on its last leg. 
You can offset this possibility by purchasing a higher quality trampoline, but if it already has undergone years of wear and tear, then it may not matter much for its longevity.  
Another smaller con within a con is that a used trampoline will have a low or non-existent warranty to cover any trampoline replacement part changes you need to make in the future.  
Older trampolines may have warranties that have expired, so if you need to replace parts -which can be difficult to find on old trampolines---you will likely need to pay out-of-pocket for them.   
Scam Risk Is Increased  
Buying a used trampoline also means you could be buying from an independent user rather than a verified retailer, trampoline brand or dealer. 
This means you may be buying from sources like Craigslist, Facebook Marketplace or eBay. It's not that these places are untrustworthy, but there is an inherent risk in purchasing a trampoline from an unverified user. 
You also will probably have to go pick up the trampoline yourself if you purchase it through an independent source. This could be a minor-to-major inconvenience depending on the circumstances.  
Check out our article on where to buy a trampoline to learn more about the best places to buy a trampoline this year! 
Is a Used Trampoline Right for You?  
Now that you've seen both sides of the ledger, it's time to figure out whether a used trampoline is right for you.  
How do you do this? The best way is to internally assess the pros and cons of used trampolines and see whether they align with your goals for a trampoline. 
You're a fit for a used trampoline: If you're wanting a trampoline for a cheaper price and can live with the potential safety/durability/logistics concerns, then buying a used trampoline may be a good option for you. 
You may be better off buying a new trampoline: If you're wanting a trampoline to safely last for 5+ years, it may be worth it to purchase a new, higher quality trampoline that will be able to handle consistent jumping from your jumpers while not breaking down under inclement weather. 
7 Essential Things to Consider When Buying a Trampoline 
No matter if you're buying a trampoline used or new, you must make sure you get one that meets your goals on crucial features like safety, quality and durability. 
Because we've dealt with thousands of customers over our time as a trampoline manufacturer, we know the exact steps you need to follow to make a successful trampoline purchase.  
There are seven factors that deserve heavy consideration before buying a trampoline, including: 
What size of trampoline you need. 

Who will be using the trampoline. 

The type of trampoline you want.  

The safety of the trampoline. 

The other activities you can do on the trampoline. 

If you can keep the trampoline up all year and how long it will last. 

The cost of the trampoline. 
Read through our blog on the seven things to look for when buying a trampoline and significantly increase your chances of getting the right trampoline the first time around!