5 Best Trampolines to Buy at Target (2023) 
Confused about which trampoline to buy for your family? We list out the best trampolines, from mini to big, that you can buy from Target this year!
Are you looking to buy a trampoline at Target, but don't know which one to pick? 
Target, the seventh-biggest retailer in the United States, currently has eight pages of trampolines on its website.  
They vary from toddler trampolines to 16 ft trampolines, which can make it difficult to find the best one for the category you're looking for. 
We're going to make it a whole lot easier to find what you're looking for. Using our expertise as a trampoline innovator and manufacturer, we are going to list the best trampolines you can buy for five categories at Target. They are: 
Toddler trampolines  

Mini trampolines 

Low-budget trampolines 

Mid-budget trampolines 

High-budget trampolines 
After reading this, you will have a solid understanding of the best trampolines you can buy at Target, no matter what type of trampoline you're looking for. 
What Should You Consider When Buying a Target Trampoline? 
Before getting to the list, let's go over a few of the major factors you need to evaluate as you look for your ideal trampoline:   
Safety Features – What specific safety features does this trampoline come with?   

Quality – Is this trampoline built with quality materials that ensure its longevity through childhood?  

Durability- Can this trampoline withstand years of jumping and weather conditions without breaking down?  

Warranty- What parts are included and how long is the warranty?   

Design and Style – Does this trampoline look aesthetically pleasing in your backyard? Can you customize it?  

User Reviews – Does this trampoline have positive online reviews?     

Cost of the Trampoline– Is this trampoline within your budget and worth the investment?    

Other Important Factors- Weight capacity, installation, customer service and trampoline accessories.  
These factors will serve as the basis for a sound and informed decision for your next trampoline, whether you're buying from Target or any other place.  
Choose the factors that are most relevant to your goals and use them to guide you to the right trampoline, whether it's on this list or not. 
Check out our blog on what you need to look for before purchasing a trampoline to learn more about getting the right trampoline in your backyard.      
5 Best Target Trampolines to Buy This Year 
This list was made from an objective and honest standpoint. We've thoroughly vetted out the trampolines at Target and have chosen these five (one per category) as the winners. There will also be an honorable mention for each category. 
We're going to be providing pros and cons for each trampoline, the user reviews on the Target website and the cost of the product.  
Note: One of our Springfree Trampoline models will be listed in the "High-Budget" section. There are only two brands that would qualify for our "High-Budget" List based on pricing (over $1,000), and our trampolines are objectively superior to the other high-end trampoline brand (Flybar Spark) at Target. 
All photos, costs and reviews are courtesy of Target. 
See all of Target's Trampolines here. 
Best Toddler Trampoline at Target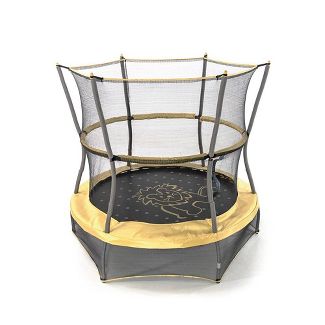 Pros: 
Unique design. 

Comes with a 360-degree padded handlebar for stability.   

Features stretch bands instead of trampoline springs.  

Soft frame pad covers the stretch bands. 

Comes with an enclosure net that is sewn to the mat, which eliminates gaps. 

Makes animal sounds.  
Cons: 
Not foldable. 

Only made for indoor use. 
Reviews: 4.4 out of 5 (13 ratings) 
Cost: $107.99 
Honorable Mention: Little Tikes Easy Store 3 ft Trampoline  
Best Mini Trampoline at Target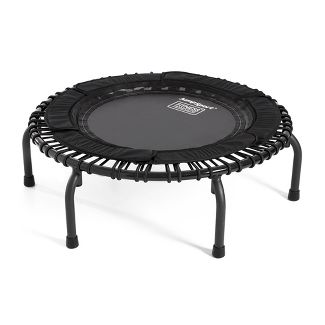 Pros: 
Notable features include a no-tip frame, a Silent FlexBounce system and EnduroLast elastic cords.  

485 square inches of jumping space. 

Black powder-coated 39-inch frame. 

Holds up to 250 pounds. 

Arched legs help provide stability.  
Cons: 
Only comes with a 1-year limited warranty. 

Cannot be folded.  

Does not come with a handle.  

Tools not provided with assembly.  
Reviews: 5 out of 5 (16 ratings) 
Cost: $269 
Honorable Mention: Stamina Mini Fitness Trampoline w/ Smart Workout App 
Best Low-Budget Outdoor Trampoline at Target 
Pros: 
Relatively affordable. 

Has a no-gap enclosure system, which protects jumpers from the springs.  

The frame and springs are rust-resistant and galvanized.  

Spring pad is UV resistant, and springs are located outside of the net.   

Comes with the Jump-N-Toss Game with six bean bags. 
Cons: 
1-year warranty on the frame and only 90 days on all other materials.   

Static, non-padded, metal poles present a safety hazard for wayward jumpers. 

Durability concerns because the Trampoline is made from inexpensive material—especially the netting. 
Reviews: 4.5 out of 5 (78 ratings) 
Cost: $229.99 
Honorable Mention: Skywalker's 15 ft Round Trampoline  
Best Mid-Budget Outdoor Trampoline at Target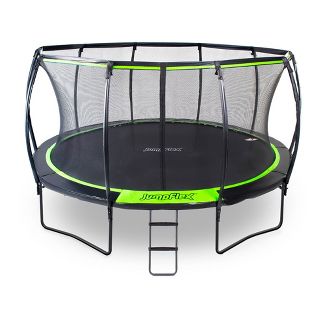 Pros:     
Sleek design.  

Offers a 10-year warranty on manufactured defects (can purchase a lifetime warranty for $59).

Enclosure net is made from 100% high-strength polyester and is UV-protected.  

Built with durability features like a 42 mm steel frame and metal components that undergo a 6-layer rust-proofing process. 

Comes with a ladder at purchase.       
Cons:        
198-pound single jumper weight capacity is low compared to other 12 ft trampolines.   

The netting and the mat are two separate elements, which can cause gaps between the mat and net, potentially exposing a falling injury area.  

Even though the metal poles are curved, they still are static and could cause injury if enough force is applied to the net by the jumper.  
Reviews: No Target user reviews 
Cost: $699 
Honorable Mention: Skywalker's Epic Series 14 ft Trampoline  
The JumpFlex Flex120 Trampoline made our "Best 12 ft Trampolines" List for this year. Check out the List to see who else made the cut! 
Best High-Budget Outdoor Trampoline at Target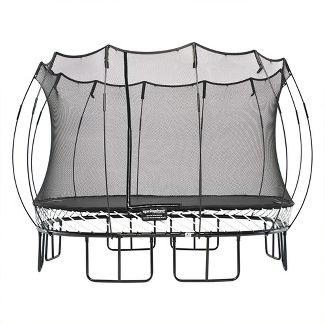 Pros:  
Industry-leading trampoline safety features like the FlexiNet, SoftEdge Mat, hidden frame, enclosure rods and no springs.  

Made from quality materials such as a galvanized steel base with three layers of rust protection, patented composite fiberglass rods for the jumping system and flexible net rods.  

Provides 13 ft of jumping space even though it is 11 ft wide.    

10-year warranty is included for all parts that cover manufacturer defects in material and workmanship.    

Can customize the Trampoline and choose from seven different colors. 

Visually pleasing design that adds to a backyard's aesthetic.    
Cons:          
The high price point can be too much for some budgets.  

Can be difficult to self-install, although professional installation is offered for $399 (Check out our Tips for Assembly if assembling without professional assistance).   
Reviews: 4.9 out of 5 (808 ratings) 
Cost: $1,899 
Honorable Mention: Springfree Medium Oval Trampoline  
If you enjoyed this list, check out our other "Best Of' Lists to see more of the top trampolines you can buy this year: 
Which Target Trampoline Is Right for You? 
The five trampolines on this list should help guide you to the trampoline you're looking for at Target.  
Take a thorough look at the trampoline you're interested in, and if it's not suitable for you, go to Target's website and type in the type of trampoline you're looking for. Use terms like "toddler trampoline", "rebounder trampoline" and "12 ft trampoline," or filter it by price range.  
Those are some shortcuts you can take so you don't have to go through every trampoline page on Target's website.  
Overall, Target is a solid place to purchase a trampoline, with different options at several price points. If you're looking for a trampoline, you can likely find an adequate one at Target.  
However, if you're still struggling to figure out which trampoline to purchase, we want to offer our professional assistance to help guide you. 
We have a team of experts on-call and ready to answer any questions you have about which trampoline to buy. Reach out to us and one of our trained representatives can help you on your journey to better jumping!