Cheers to 20 Years: Springfree Trampoline Gives Back With Donation + Promos!
Springfree Trampoline, the creator of the springless trampoline, is celebrating its 20th year! Find out how they're celebrating with promos + discounts!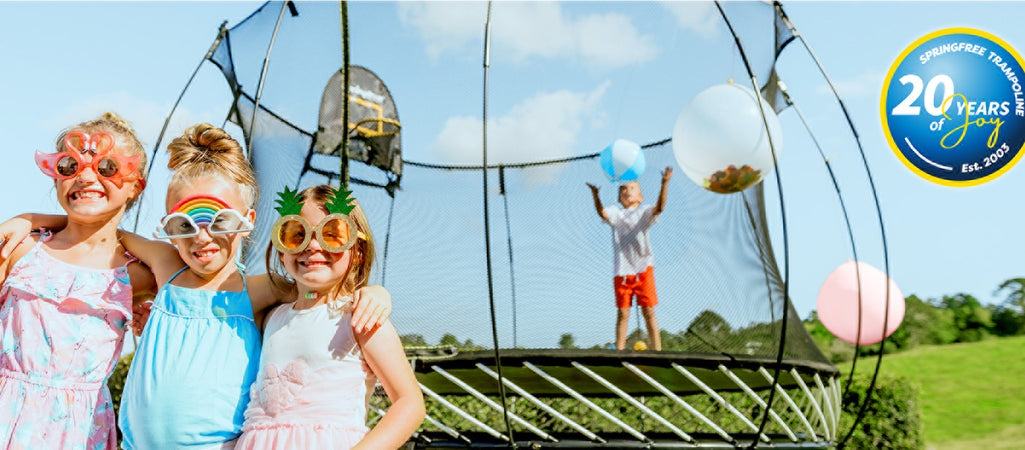 Springfree Trampoline, the creator of the springless trampoline, is celebrating its 20th year of providing safe trampolines in backyards around the world! 
Springfree's springless trampoline invention, which originated in New Zealand and took around 15 years to make, was officially introduced in 2003 and has now become one of the premier trampolines on the market.  
"It started when our inventor, Dr. Keith Alexander, had a deep desire to create a safe trampoline for his family," said Steve Holmes, Co-Founder and CEO of Springfree Trampoline. "Over the course of 20 years, we have impacted over half a million backyards, and we've inspired what we believe are joyful, safe moments for families and their kids." 
Dr. Alexander designed the trampoline as an alternative to the traditional, spring-based trampoline, which had many injury concerns that drove parents away from buying an outdoor trampoline.  
After many iterations, he was able to finally build what many consider to be the safest trampoline in the world, with features like: A springless design that results in the frame being hidden from the jumper, a flexible net, a mat with no hard edges and pliable enclosure rods.  
Springfree's unique and innovative design makes it the world's safest, highest quality, and longest lasting trampoline supported by a full 10-year warranty. Primarily because of their safety-first design, Springfree Trampolines have earned the most awards out of any trampoline in the marketplace, including the Mom's Choice Award for 2023 and Top Product Award for 2023.  
"It's crazy to think that it has been 20 years since Springfree Trampolines were officially introduced to the world," said Amy McIntee, Springfree Trampoline's VP of Sales, North America. "20 years later and our goal remains the same: Make a trampoline that gives parents the peace of mind to let their kids experience the joy of jumping on a trampoline." 
As a part of its 20th Birthday, Springfree Trampoline has donated to The Birthday Party Project, a non-profit organization that uses birthday parties to bring joy to children that are homeless or living in transitional living facilities. They also helped throw a birthday party for kids at a local Dallas, TX shelter earlier this year.  
In light of their continued persistence to be an industry leader, Springfree has just announced its newest and largest release yet, the Jumbo Oval Trampoline, which provides 200 square feet of jumping space!  
Sign up for our Springfree Newsletter for the latest on promotions, discounts, contests, new releases and more.