5 Best Trampolines to Buy at Academy (From Mini to Large!)  
Get insider knowledge on the best trampolines from Academy Sports, categorized by type and budget. Make your buying decision easier with our expert-crafted list!
Academy Sports, one of the leading retailers in the South and Midwest regions of the United States, sells various trampolines of different sizes and brands.   
Researching these trampolines on your own can be tiring and time-consuming. Who has the time to go through nine pages of trampolines on Academy's website? 
You probably don't but because we are one of the leading trampoline brands in the world, we made the time to go through each page and thoroughly assess the top trampolines using our insider expertise. 
The result? We've broken down the best trampolines from Academy Sports into five different categories: 
Toddler trampolines  

Mini trampolines  

Low-budget trampolines   

Mid-budget trampolines  

High-budget trampolines  
We've chosen a winner for each respective category and added an honorable mention. We will go over the winning trampoline's pros, cons, user reviews and cost so you get an overview of each trampoline.  
After reading through this list, you will be all set to make an informed decision on which Academy trampoline is right for you! 
What Should You Consider When Buying an Academy Trampoline?  
Before discussing the trampolines from Academy, let's go over the main factors you need to assess as you look for your ideal trampoline:     
Safety Features – What specific safety features does this trampoline come with?    

Quality – Is this trampoline built with quality materials that ensure its longevity through childhood?   

Durability- Can this trampoline withstand years of jumping and weather conditions without breaking down?   

Warranty- What parts are included and how long is the warranty?    

Design and Style – Does this trampoline look aesthetically pleasing in your backyard? Can you customize it?   

User Reviews – Does this trampoline have positive online reviews?      

Trampoline Cost – Is this trampoline within your budget and worth the investment?     

Other Important Factors- Trampoline weight limits, installation, customer service and trampoline accessories.   
The factors above will serve as the foundation for a sound and informed decision for your next trampoline. They were also the main considerations we took into account to create this list.  
Choose the factors that are most relevant to your goals and use them to guide you to the right trampoline, whether it's on this list or not.  
Check out our blog on what to look for when purchasing a trampoline to learn more about these factors in detail! 
Best Academy Trampolines to Buy This Year    
This list was made with complete objectivity: Every trampoline on Academy's website was considered and evaluated.  
In full transparency, one of our Springfree Trampoline models will be listed in the "High-Budget" section. There are only two brands that would qualify for our "High-Budget" List based on pricing (over $1,000), and our trampolines are objectively superior to the other high-budget trampoline brand (Jumpking) at Academy. 
Photos, costs and reviews are courtesy of Academy. Products may be out of stock or no longer carried by Academy. At the time of writing, all trampolines were available for purchase.     
See all of Academy's Trampolines here.  
Best Toddler Trampoline at Academy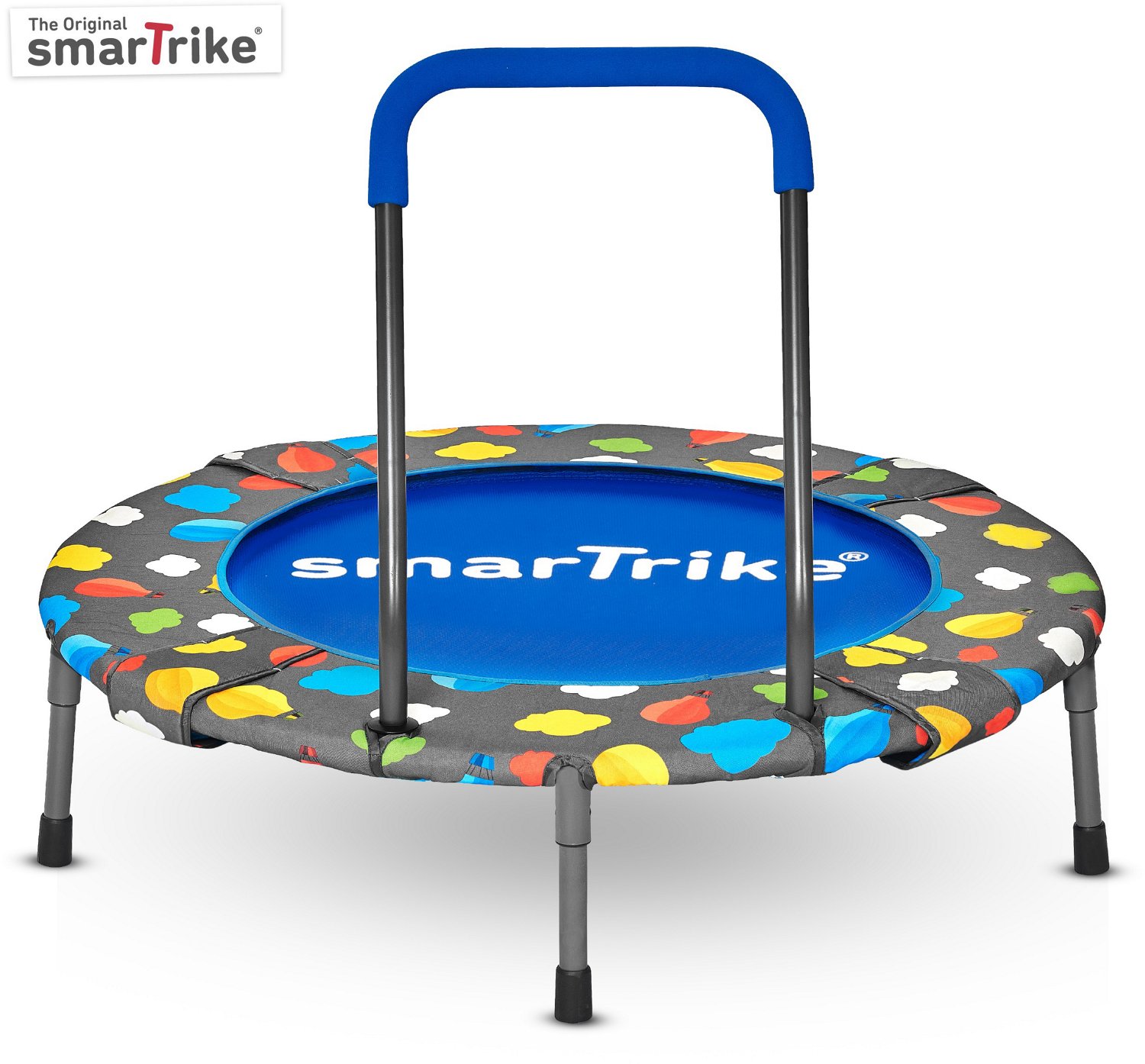 Pros:  
Cool design. 

Comes with a removable bar. 

No tool assembly. 

Can be folded to fit in compact areas.   

Product can hold an individual weight of 55 pounds.   

Provides a quiet bounce.   
Cons:  
The flaps that cover the hinges may not stay tucked in. 
Reviews: 4.9 out of 5 (47 ratings) 
Cost: $99.99  
Honorable Mention: Skywalker Classic 48 in Round Trampoline    
Best Mini Trampoline at Academy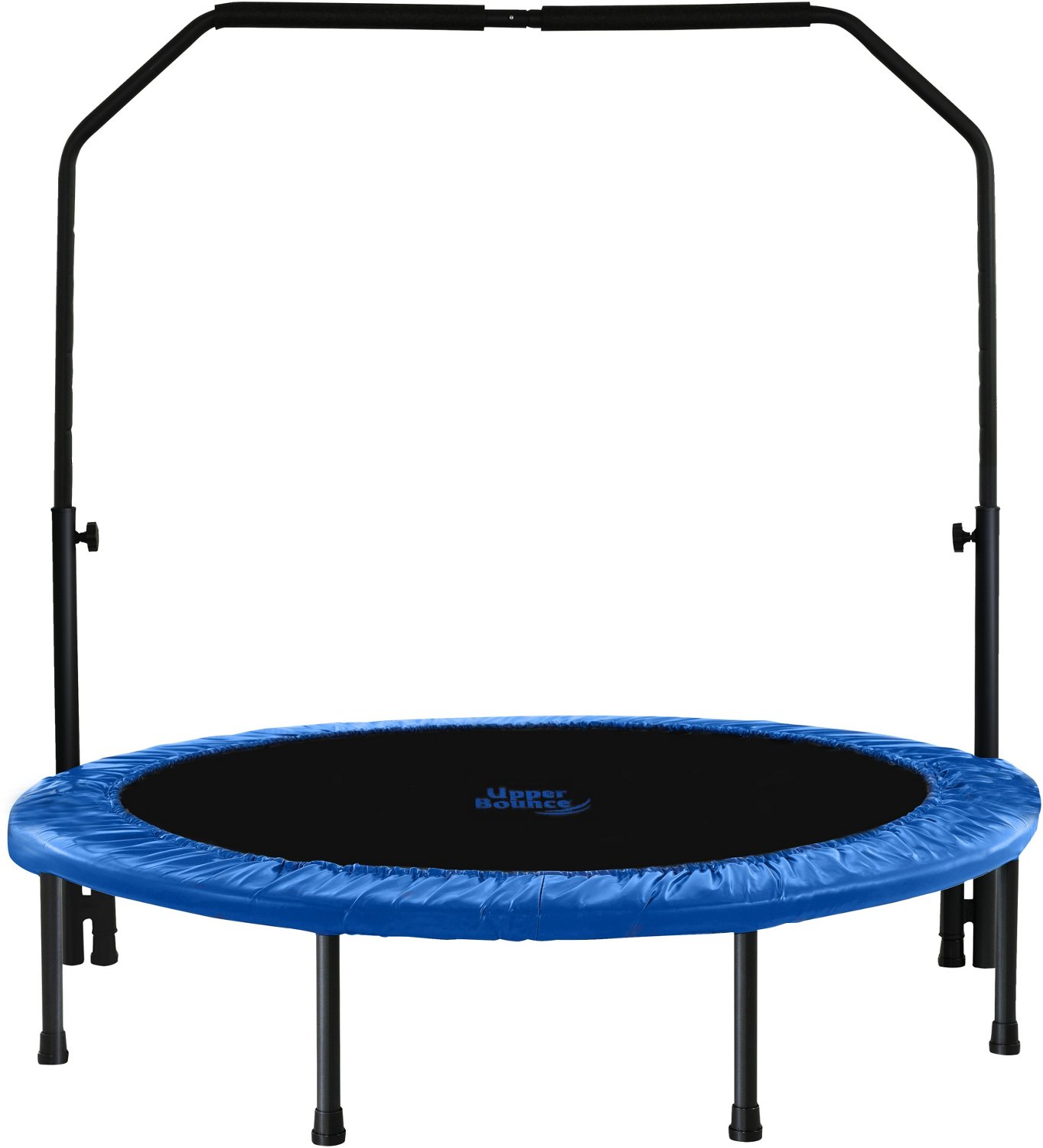 Pros:    
Comes with a padded handlebar that can be adjusted to five different positions. 

Rust-resistant galvanized and powder-coated steel frame with a vinyl covering.  

8-row stitching helps prevent tears in the mat.  

Legs are built with rubber tips to prevent damaging the floor.  

Foldable and easy to store.  

Built for kids and adults. 
Cons:    
Only 1-year limited warranty for the mat and metal parts, 6 months for padding and 90 days for all other parts. 

Maximum individual weight capacity is 220 pounds. 

Uses springs, which can cause pinching injuries if not properly covered.   
Reviews: 5 out of 5 (2 ratings)  
Cost: $169.99  
Honorable Mention: TruJump 48 in Mini Fitness Trampoline With Handlebar   
Best Low-Budget Outdoor Trampoline at Academy   
Pros:    
Relatively affordable for its size. 

The frame is rust-resistant and galvanized.  

Netting and mat are protected with UV-resistant material. 

Comes with the "Spin-n-Light" feature that keeps jumpers in the center of the mat and allows you to jump at night.  
Cons:  
Static metal poles present a safety hazard for wayward jumpers, especially if the padding starts to deteriorate.  

You pay for what you get: The material is not of great quality, which means parts may need to be frequently replaced or it could break down within 1-3 years.  

Water anchors (pictured above) offer extra stability, but they must be filled with water and attached manually. The need for them also calls into question the trampoline's ability to withstand windy or poor weather conditions. 

Warranty information could not be found. 
Reviews: 4.4 out of 5 (14 ratings)    
Cost: $249.99  
Honorable Mention: Skywalker's 15 ft Round Trampoline     
Photo courtesy of TruJump.
Best Mid-Budget Outdoor Trampoline at Academy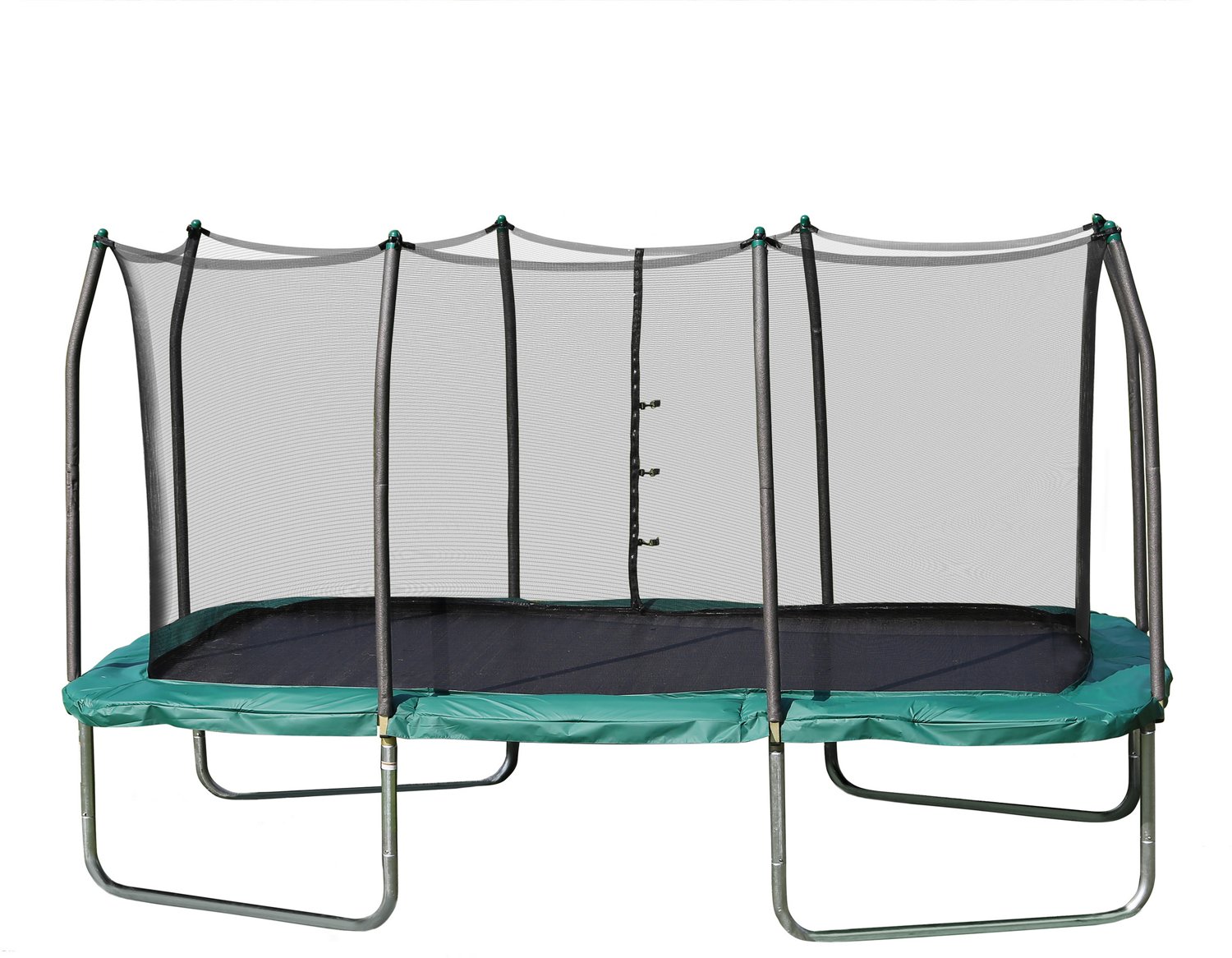 Pros:      
Solid amount of jumping space for the price. 

Has a no-gap enclosure system, which protects jumpers from the springs.   

The frame and springs are rust-resistant and galvanized.   

Jumping mat and spring pads are UV resistant, and springs are located outside of the net.    

Relatively easy to assemble. 
Cons:  
Static metal poles present a safety hazard for wayward jumpers.   

200-pound recommended individual weight capacity is low for a 14 ft trampoline. 

1-year warranty on the frame and only 90 days on all other materials.   

Not a visually pleasing design for some backyards. 
Reviews: 4.7 out of 5 (20 reviews)    
Cost: $689.99    
Honorable Mention: Jumpking 15 ft Round Trampoline with Basketball Hoop      
Best High-Budget Outdoor Trampoline at Academy   
Pros:   
Industry-leading safety features like the FlexiNet, SoftEdge Mat, hidden frame, enclosure rods and no springs.   

Made from quality materials such as a galvanized steel base with three layers of rust protection, patented composite fiberglass rods for the jumping system and flexible net rods.    

Provides 92 square ft of jumping space despite being 8 ft x 13 ft wide.     

10-year warranty is included for all parts that cover manufacturer defects in material and workmanship.     

Can customize the Trampoline and choose from seven different colors.  

Visually pleasing design that adds to a backyard's aesthetic.     
Cons:      
Premium pricing makes it out-of-budget for some.   

Can be difficult to self-install, although professional installation is offered for $399 (Check out our Tips for Assembly if assembling without professional assistance).    
Reviews: No user reviews on Academy   
Cost: $1,799    
Honorable Mention: Springfree Medium Round Trampoline   
If you enjoyed this list, check out our other "Best Of' Lists to see more of the top trampolines you can buy this year:  
Which Academy Trampoline Is Right for You?    
Whether you're buying a trampoline for toddlers, teenagers or adults, Academy has some quality options to choose from, no matter what your budget may look like. 
The five trampolines that made this list were considered to be the best by our internal analysis. Our advice as a trampoline expert is to figure out your goals and budget to see which trampoline at Academy fits your situation.  
If none of the trampolines on this list met your expectations, you can look through all of Academy's trampolines and use the filters on the left to sift through their trampolines by price, brand, size, etc. 
There are also plenty of other retailers—like Walmart, Amazon and Target—that sell trampolines, so don't settle if you're not completely sold on an Academy trampoline! 
If you're still struggling to decide which trampoline to purchase, we have a couple of free, easy-to-use tools that you may find beneficial in your research process: 
Tool #1: Augmented Reality (AR) Tool that lets you virtually place a trampoline in your backyard using your smartphone to see how it looks before purchasing. 
Tool #2: Model Selector Tool that automatically generates a couple of recommended trampolines based on your answers to three simple questions. 
We want to be here for you as you search for your next trampoline. Buying the wrong trampoline can lead to massive frustration, wasted money, or worse, compromised safety for your jumpers.  
Use the tools above or reach out to us to receive honest and professional consultation from our trained trampoline experts--and get the right trampoline the first time!