8 Backyard Trampoline Picnic Ideas & Fun, Healthy Snacks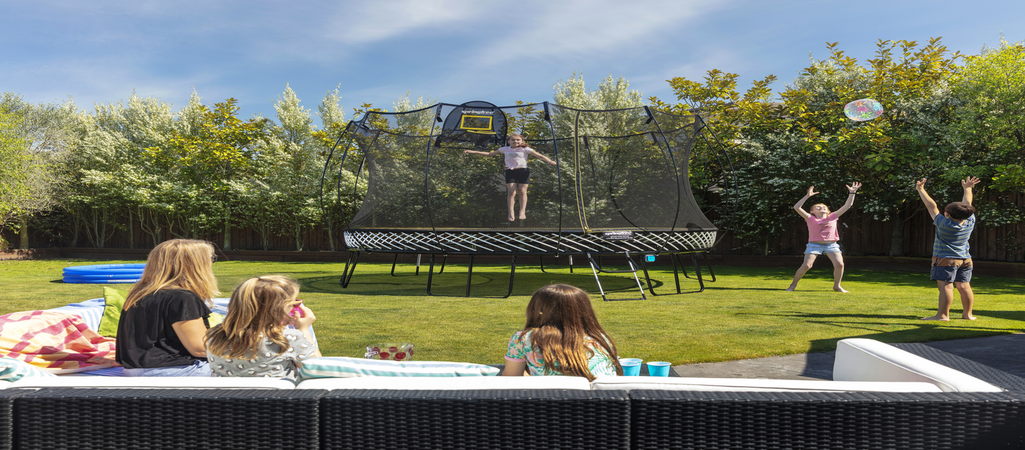 Are your kids getting tired of eating the same, old PB&J? Making sure your kids eat healthy everyday can be a challenge for most parents. With easy access delivery apps and grab and go foods, sometimes we forget to take in to account the nutritional value.
Here are some creativity ways to make eating healthy enjoyable for your kiddo. From the kids joining in on the prep, to crafting together before lunch, everyday meal times can turn into fun adventures.
So, grab your food, take it to the backyard trampoline and enjoy the outside Vitamin D!
Picnic Basket Contest  
This game will encourage your kids to get involved in the setting or cleaning up of the picnic area on your trampoline. It can be played individually or in teams.
What You'll Need:
• Picnic Basket 
• Lunch and utensils 
Instructions:
Assign a picnic basket to the kids.

Their task is to help organize all the food, supplies, blankets, drinks, plates, cups and utensils.

Ensure that there is no spillage and cleanliness is maintained at your backyard picnic spot.

The one who organizes the basket and helps out the best for the entire meal is the Tidy Picnic Winner!
Snail Lunch
Recipe By: Canadian Family 
What You'll Need:
• 2 slices of bread
• Peanut butter (or alternative)
• Jam (in a squeeze bottle)
• Banana
• 2 pretzel sticks
• 2 chocolate sprinkles
• Circle cookie cutter—or use the open end of a drinking cup
Instructions:
Peel your banana and place it on a plate.
Using your two slices of bread, peanut butter and jam, make a sandwich. Cut this sandwich into a circle shape using either a circle cookie cutter, or use the open end of a drinking cup if you don't have a circle cutter. Place the circle sandwich on top of the banana for a snail shell.
Stick two pretzel sticks in the top of the banana.
Stick two chocolate sprinkles in your banana for the eyes.
Using your jam squeeze bottle, squeeze on a smile, and squeeze on a circular shape for the snail's shell.
Enjoy your Snail Lunch trampoline picnic!
Color A Watermelon Fan (Or ANY Fruit, Veggie or Funny Face)
Project By: Make and Takes 
 Make this fan for the hot summers when you and the kids need to cool down after some backyard trampoline jumping!
What You'll Need:
1 paper plate
1 jumbo craft stick
Crayon colors: green, pink, light pink, black
Scissors – Adults help out! 
Glue Stick – Adults help out!
Instructions:
Cut a V-shape from the paper plate to create a watermelon wedge.
Color the craft stick and the rim of the paper plate green.
Color the center of the plate pink. Use light pink to add a border between the green and pink paint on the paper plate.
Color black dots to make the seeds.
Use the white glue stick to attach the craft stick to the back of the paper plate.
Veggie Faces No Bake Vegetable Pizza & Wraps
Recipe By: Two Healthy Kitchens
What You'll Need:
Crust 
Your favorite tortilla, pita or flat bread
Sauce 
Cream cheese (your favorite flavor, Greek yogurt dip (such as French onion or Jalapeño and Salsa), Hummus, or Cottage Cheese
Toppings 
Fresh veggies such as: colorful peppers (diced, slivered or cut into shapes), halved grape or cherry tomatoes, sliced cucumbers, carrot sticks or shreds, small broccoli florets, celery sticks, peas, sliced mushrooms, pitted black olives, and alfalfa sprouts
Shredded cheese 
Instructions:
To assemble, start by spreading the "crust" with one or more types of "sauce."
Add desired toppings to make a fun face.
To serve, cut into wedges like a pizza, roll up like a burrito or wrap, or fold like a quesadilla.
Furry Friends Trampoline Picnic
Your kids can invite all of their favorite teddy bears and stuffed animals to the trampoline picnic for what is sure to be the best backyard picnic ever!
What you'll need:
Teddy Bears
Stuffed Animals
Blanket & pillows (if desired)
Instructions:
Have the kids gather all of their favorite stuffed animals.
Set them up on your trampoline.
Enjoy your Furry Friends trampoline picnic!
Teddy Bear Toast
Recipe By: Creative Healthy Family 
What you'll need:
Bread (Your favorite sliced bread works great)
Bananas cut in slices
Blueberries
Peanut Butter or any other nut butter
Instructions:
Toast your favorite bread.  At home we like the multi-grain and whole wheat breads. 
Spread some peanut butter (or any other nut butter) on each piece of toast.
Top with bananas slices for the ears and nose and blueberries for the eyes and top of the nose to make the teddy bear face. (You can also substitute blueberries for raisins or currants.)
Bugs & Insects Coloring Pages
What You'll Need: 
Crayons 
Printed Bugs & Insects Coloring Pages 
Scotch or Painters Tape 
Instructions: 
Print out a bunch of bugs & insect coloring pages from TwistyNoodle 
Color the pages! 
Tape the bugs on the mat and net of the trampoline, like you would find them outside in your backyard.
Butterfly Quesadillas
Recipe By: Feeding My Kid
What you'll need:
Tortillas
Shredded Cheese
Butter (or butter spread)
Carrot
Grapes
Blueberries
Instructions:
Butter tortilla on 1 side. 
Throw tortilla down into your pan on medium heat. 
Add cheese on one side and once it's melted a little…
Fold over the side and flip until evenly grilled.
Cut it into 4 equal portions.
Place two quesadilla "wings" on your plate.
Create the body by slicing the end off of some beautiful green grapes and laying them on your plate to look like a body. Thinly slice a baby carrot into strips to use for antennae, and place two blueberries on top of the carrots to complete the look.
Enjoy your butterfly quesadilla outside on trampoline!