5 Safety Features To Look For When Trampoline Shopping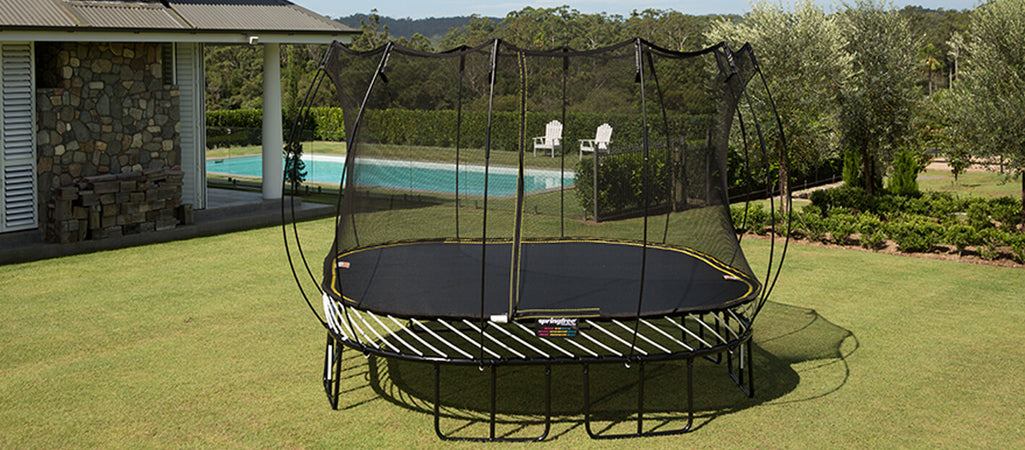 There are so many factors involved with deciding which trampoline to purchase. There's a wide range of trampoline models from a variety of brands - some small, some large, some round, some square - but the most important factor is safety.
Safety is key when choosing a trampoline because it's the one decision that can give you peace of mind. You spend a lot of time protecting your family and you want a trampoline that will do the same and not become a safety harzard. 
Here are five things to consider when comparing trampolines: 
1. The Springs
Spring-based trampolines are an older design that's still around today. When looking at trampolines, avoid models that have exposed springs or springs covered by a mat/padding. These models can create a more jolting bounce which can result in injury and can be dangerous if a jumper bounces too close to the springs. Instead look for a trampoline that uses tension rods, like the Springfree Trampoline, because it allows jumper to bounce all over the mat without fear of getting stuck or injured on the springs. 
2. The Frame
There are many designs of trampoline frames and each design can make a big impact with regards to safety. Beware of trampolines that have a frame which the jumper can collide with - even if they're covered by pads. Pads can shift and the frame can become exposed, which is very dangerous to jumpers. Look for trampolines where the frame is out of harm's way. Springfree Trampoline features a frame that sits below the mat where jumpers can injure themselves on it. 
3. The Quality
Look for a trampoline with a sturdy, stable frame that can be anchored down. Flimsy, light frames can weaken over time and eventually break resulting in jumper injury. 
4. The Enclosure
Enclosures are definitely a safety feature and should be a requirement when shopping for a trampoline - but not all enclosures are created equal. Look for an enclosure that features a flexible net and no hard objects. If a jumper falls into the enclosure, you want something that will keep them in the trampoline and won't hurt them. 
5. The Padding
Trampolines that feature padding over the springs can get worn down over time, exposing the dangerous springs. Look for a trampoline without padding, but one that the mat goes to the edge of the trampoline. Mats are often made of a thicker weave and won't wear down as much as padding. 
These five tips can help make the difference when you're trampoline shopping. Remember, safety first!