The Best 13 Ft Trampolines of 2023 | Springfree Trampoline   
Compare the best 13 ft trampolines of 2023, including Springfree, Skywalker, and JumpSport. Learn about features, safety and quality to find the perfect trampoline!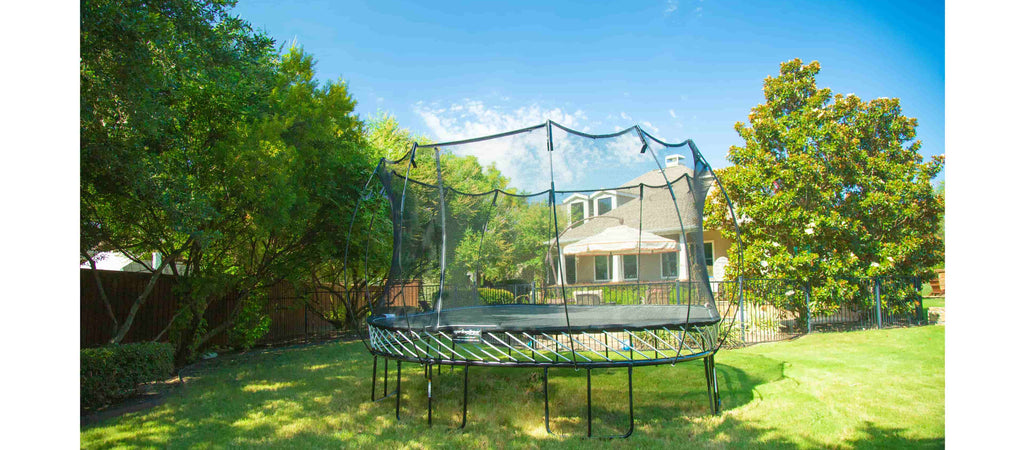 13 ft trampolines are a unique trampoline size, offering plenty of jumping space, but are still small enough to fit in most backyards.  
Since a 13 ft trampoline is unique, there are not going to be as many options when it comes to buying one. However, using our expertise as a springless trampoline innovator and manufacturer, we have rounded up an honest list of the best 13 ft trampolines you can buy this year! 
Here is what you will learn about each trampoline in this blog: 
Key features, like trampoline size, weight limits, costs and warranties. 

Trampoline safety, quality and durability analysis from experts. 

Pros & cons.  
After reading this, you will know how to make an informed decision on which 13 ft trampoline is right for your family. Let's get to it! 
Best 13 ft Trampolines (Ranked From Least-to-Most Expensive!)   
Here are the best 13 ft trampolines, ordered from cheapest to most expensive: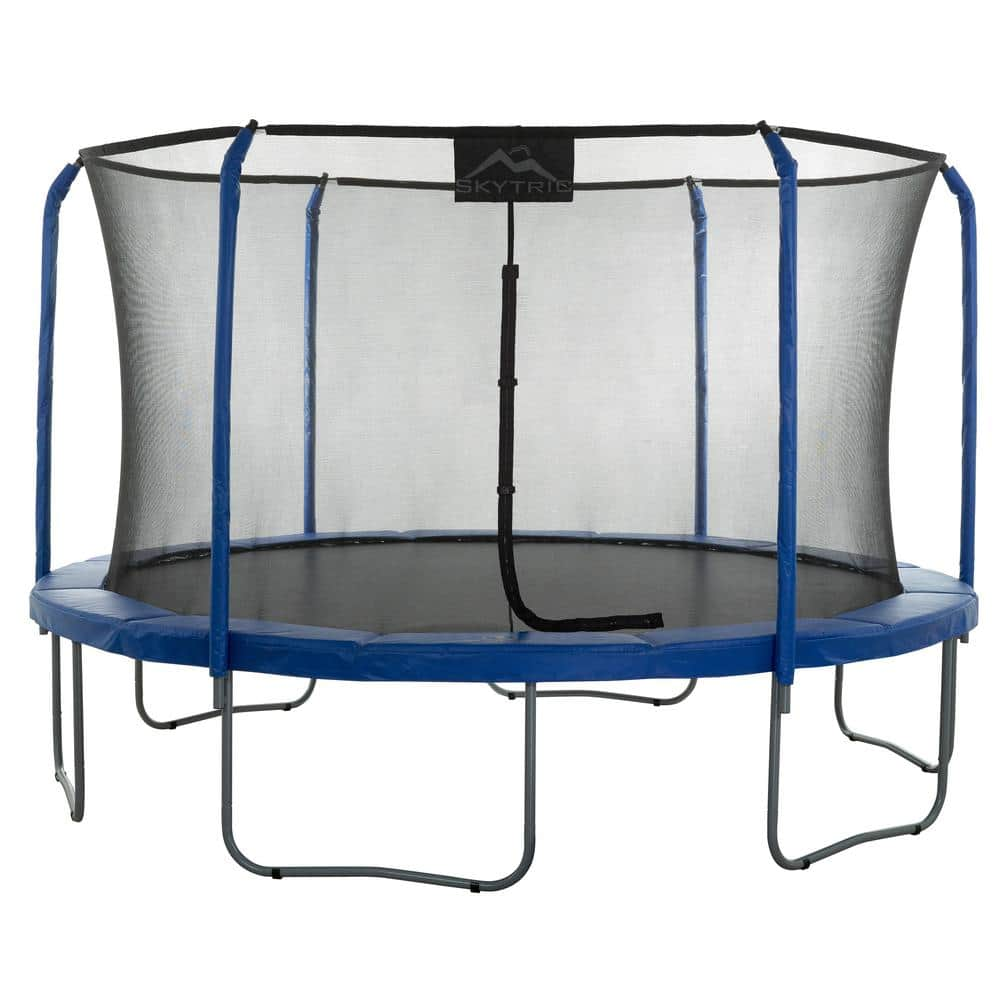 Key Features:  
Top ring frame and curved pole design help strengthen stability. 

Comes with a galvanized steel frame, springs and trampoline legs that are powder coated. The mat and safety padding are UV-treated.  

Trampoline mat is made from premium polypropylene mesh. 

Trampoline Weight Limit: Up to 330 pounds (per individual user) 

Trampoline Warranty: One-year warranty on the mat, frame and springs.   

Trampoline Cost:  $579 (Lowes)
4 Pros of Upper Bounce's 13 ft Trampoline     
1. Holds a high individual trampoline weight limit.  
2. Top support is strengthened by the top ring frame.  
3. Trampoline springs are located outside of the enclosure net.  
4. Based on user reviews, the trampoline is relatively easy to assemble.  
4 Cons of Upper Bounce's 13 ft Trampoline    
1. Gaps can be created between the net and mat, exposing the springs and a potentially significant injury hazard.  
2. Although poles are slightly curved, they can still be hit if enough force is applied to the net by the jumper.  
3. Low one-year warranty hints that the trampoline is likely not to last 1-3 years without replacement part changes. 
4. The springs and spring padding take up almost 2 ft of jumping room even though it is a 13 ft round trampoline.  
Photo courtesy of The Home Depot.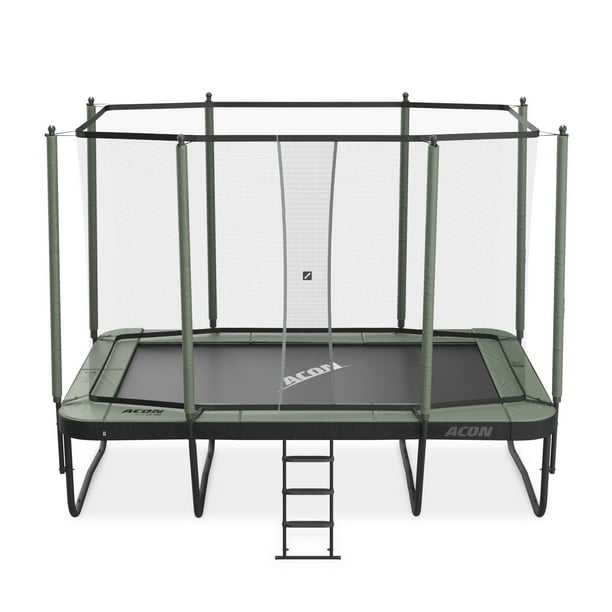 Key Features:    
Comes with ACON's galvanized X-Series Springs for bounce performance that lets you adjust the springs to have the bounce of your choice.  

Comes with a Quiet SafeZone skirt that covers the springs and for extra protection/silent jumping.   

Trampoline frame is black powder coated and galvanized to protect against rust.   

UV-treated mat and enclosure net.  

Trampoline Weight Limit: 330 pounds   

Trampoline Warranty: 10-year warranty on the frame, 5 years on the mat and springs and 2 years on the safety padding and other components. 

Trampoline Cost: $1,698  
6 Pros of ACON's 13 ft Trampoline   
1. ACON's X-Series Springs have a reputation for providing a solid bounce and can be adjusted to fit the jumper.    
2. The Quiet SafeZone is an innovative feature that helps silence the springs when jumping. 
3. 13 ft rectangular trampoline shape gives it an even bounce. 
4. Trampoline is quality-made, with adequate galvanization of the frame and a UV-treated mat and net. 
5. High trampoline weight limit. 
6. Solid warranty coverage on the frame and mat.  
5 Cons of ACON's 13 ft Trampoline    
1. Could be expensive for some budgets.  
2. Springs are at least partially located inside the net – a big safety concern for pinching injuries to toes/hands.  
3. Gaps can be created between the mat and net, exposing a falling area. 
4. Static metal poles could create a safety hazard for wayward jumpers.   
5. Jumping space is around 2 ft less than its 13 ft trampoline size because of the springs.  
Photo courtesy of Walmart.  
Key Features:  
Industry-leading trampoline safety features, including the use of mat rods instead of springs, a flexible enclosure net, supported by enclosure rods instead of metal poles, a mat with no hard edges and a frame that cannot be hit by the jumpers. 

Trampoline frame is galvanized with three layers of rust protection and all pertinent parts of the Trampoline are UV-treated.  

Provides 155 square ft of jumping space.  

Unique and aesthetically pleasing design that can be customized.  

Trampoline Weight Limit: 220 pounds  

Trampoline Warranty: 10-year warranty on all parts of the Trampoline.  

Trampoline Cost: $2,499  
5 Pros of Springfree's Jumbo Square Trampoline   
1. Safety, quality and durability features add up to make the Springfree Trampoline the safest, highest-quality and longest-lasting trampoline on the market.  
2. Provides ample jumping space equivalent to a 15 ft spring trampoline.  
3. Has a soft bounce that is easier on the joints than a spring-based bounce.  
4. Best warranty coverage for a Trampoline.   
5. Trampoline's design adds to a backyard's visual appeal, and you can customize the Trampoline by choosing from seven different colors.  
3 Cons of Springfree's Jumbo Square Trampoline    
1. Could be too expensive for some budgets (trampoline financing is offered as an alternative).  
2. 220-pound individual trampoline weight limit is low relative to the other two trampolines on this List.  
3. The Trampoline's installation can be difficult for some.  
Which 13 ft Trampoline Is Right for You?  
Out of the three 13 ft trampolines mentioned above, which one is best for your family? Here's a quick recap of each:  
Upper Bounce 13 ft Trampoline: Cheaper than the other two trampolines and high weight limit but won't last past 1-3 years without replacing parts.  

ACON's 13 ft Trampoline: Provides a solid, quiet bounce and is quality made. It is not cheap, though, and comes with multiple safety concerns. 

Springfree's 13 ft Trampoline: Safest, highest-quality and longest-lasting trampoline that comes with a unique, customizable, design. It's high price point and sometimes complicated installation are downfalls to consider. 
A 13 ft trampoline is uniquely sized for families that want something in between the more common 12 ft trampoline and 14 ft trampoline sizes. You shouldn't have to worry about your child physically growing out of a 13 ft trampoline.   
They are big enough to serve as a trampoline for adults too, so while your child can reap the joy of jumping on a trampoline, you can also use it to get a good trampoline workout in. 
You will want to find the trampoline that meets your goals: We have used our expertise to round up the most important factors to consider before purchasing a trampoline. Use the article below as a guide to making your trampoline goals! 
Check it out: "What to Look for When Buying a Trampoline (7 Things)"    
Want to See a 13 ft Trampoline in Your Yard Before Buying?     
Now that you've seen the best 13 ft trampolines, it's time to see what a 13 ft trampoline actually looks like in your yard. 
We offer a free AR Tool that allows you to use your phone to visually place a trampoline in a spot to see if it fits. It takes only three steps:  
Step 1: Open the Springfree Trampoline website on your phone, click on a trampoline and click on the AR icon on the trampoline's page. This will open your phone's camera, where the trampoline will be visible.   
Step 2: Move to the location you're wanting to place the trampoline and zoom in and out, relocate or rotate using your fingers as desired.   
Step 3: Once you have the trampoline in place, snap a photo and save it to help with your decision-making process!   
Note: For a 13 ft Trampoline, use the Springfree Jumbo Square Trampoline (Click here to be taken to the product page, where the AR Tool is located.) 
Reach out to us if you have any questions and go get the right trampoline for you!